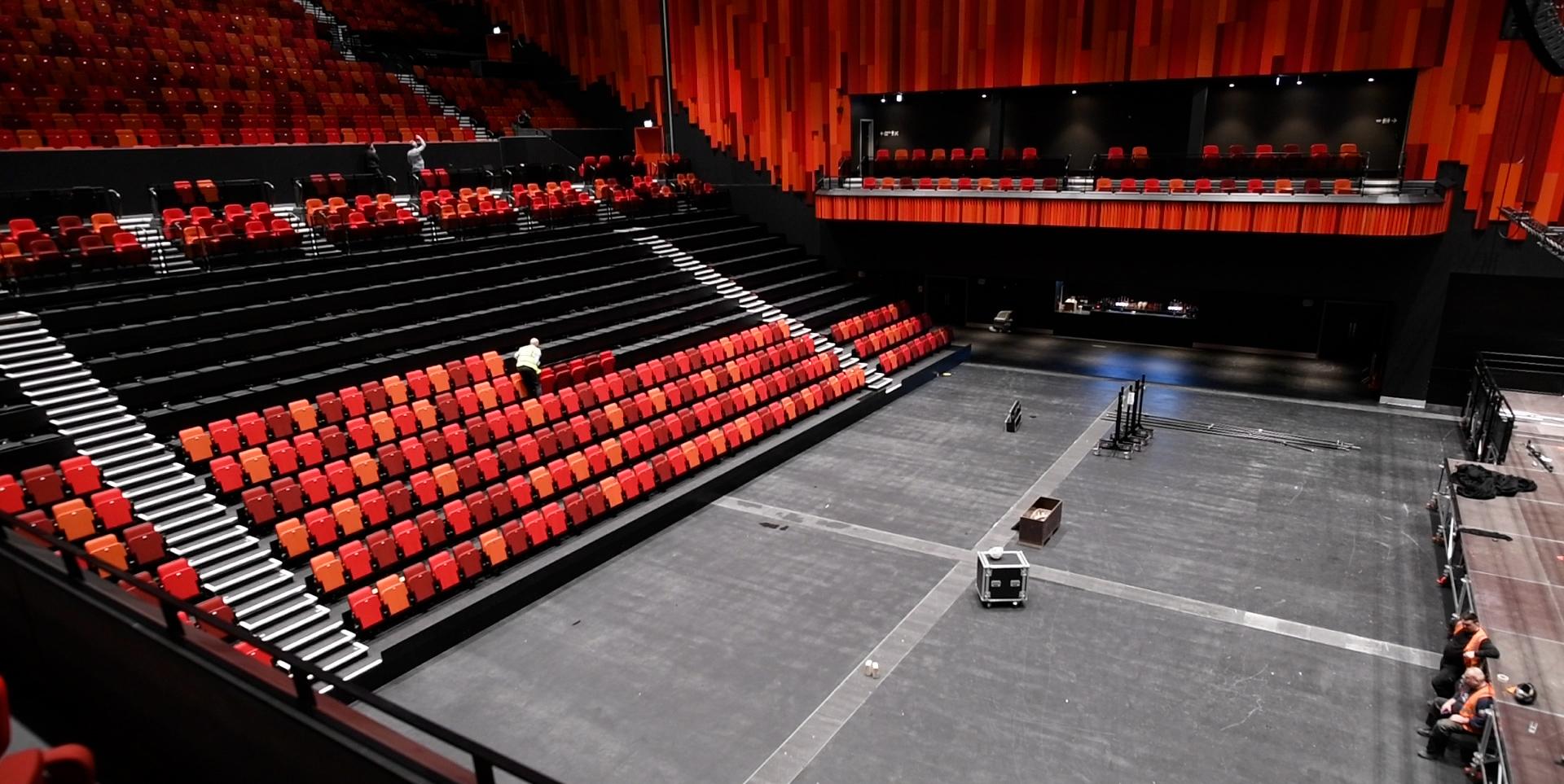 Which Standards Apply to Retractable Seating in the UK?
Retractable seating is an oddity when it comes to standards. It's not a fixed part of the building, but it's rather more than furniture. It's a weight-bearing structure which has to safely support sometimes hundreds of people. It's a mechanical, moving piece of equipment. When it has power operation, it's a machine. It has aisles and walkways which must form part of a building's fire evacuation risk assessment. So for a product with so many "hats" on, where do you start with standards and regulations? Here's our guide to make it easier.
Retractable Seating Design
BS EN 13200 is not only the British and European stand for spectator seating, it's a very useful design guide. Part 1 covers general seating layout, fire safety and sightlines. Part 5 is a specific section for retractable seating and covers a whole range of subjects and requirements including (but not limited to):
· Safety – locking mechanisms, requirements for wheels and so on
· Loadings – guidance on loads that both platforms and rails must be able to safely withstand
· Layout – requirements for "seatways" – the minimum depth between the rear of one seat and the front of another
· Labelling, provision of operation and maintenance manuals
· Responsibilities and guidance on who is deemed responsible to design, maintain and operate retractable systems
Needless to say, we advise clients and design our systems according to this standard, but if you are interested in procuring a copy for yourself, it can be found here.
We also reference in our designs BS 9999: Code of Practice for Fire Safety in Buildings. This is particularly important as it gives us guidance from a fire safety perspective on how many spectators can be safely accommodated in a row or block of seating. Our systems also comply with Eurocode's Basis of Structural Design – BS EN 1990-1 and numerous referenced standards, as well as Building Regulations Parts K (Protection from falling) and M (Accessibility).
Chair Strength
In 2000, a strength standard for ranked seating, BS EN 12727 was introduced across Europe. The standard specifies a huge range of tests to simulate wear on seats – from repetitive tests to verify the strength of the tip-up mechanism to impact tests which simulate kicks, knocks, full-grown adults jumping on the seats.
The important thing to know about this standard is that it has 4 different "levels". You should always check which level a chair meets since the requirements increase significantly between level 1 (general use) and level 4 (severe use). If a chair is just said to meet this standard with no level specified, it tells you very little.
It's also important to note, if you are designing a school, that level 4 is the required level as stipulated by the Department for Education in the FF&E Annex of its General Design Brief for the design and construction of school premises. All our most popular chairs (including Espace, Accolade, Zenith, Recital) are tested to level 4.
If you'd like more in depth information about this standard, there's plenty in our dedicated article here.
Flammability
Flammability is another area where auditorium / spectator seats are an oddity – because they usually tip up. This creates a very different environment for fire than with a fixed-seat chair. Nevertheless, the same tests apply to both. The flammability standard BS5852:1990 tests how long the chair smoulders, how much smoke is emitted etc after exposure to different ignition sources:
Source BS EN1021-1, 0 simulates a burning cigarette
Source BS EN1021-2, 1 simulates a burning match
Source BS EN1021-2, 5 consists of a "crib" – a small wooden box containing an alcohol-soaked cloth which is ignited and, if a whole chair is being tested rather than just a fabric or foam, left at the back of the seat.
The length of time for which flames and/or smouldering are observed (if at all) are then recorded.
UKCA / CE Marking
In the UK, the UKCA mark has now replaced the CE Mark. This applies retractable systems if they are motorised – because they are then classed as a machine. The principles of UKCA are the same as CE – the mark is based on a risk assessment carried out by the manufacturer.
Fire & Evacuation
The seated area in an auditorium is densely populated during a performance, and as such it's critical to get the layout right in terms of fire safety. It's up to the individual fire officer in each local authority to sign off the design of the room as a whole. We cannot guarantee that a fire officer will sign off any layout, but we refer to the guidelines of BS EN 13200 and to BS 9999 (see "Retractable Seating Design" section for more information about these) to ensure the design is sound.
Maintenance
Once the system in place, it's important to know that your retractable seating system is covered by the Provision and Use of Working Equipment (PUWER) regulations. These state that any equipment operated in any workplace should be kept in efficient working order, and regularly inspected by a competent person with records kept of these inspections. Our aftersales team can advise further and, of course, carry out annual service inspections in line with these regulations.
If you need any more information on any of the above, please give us a call and we'll be more than happy to advise you – after all, we've been doing this for fifty years!