A team dedicated to looking after your seating
We have the UK's largest seating after sales department, dedicated to supporting our customers for the lifetime of their seating.
The understructure of your retractable seating system comes with a 10 year warranty against manufacturing defect. But we know that our seating will still be performing beautifully after considerably longer than this. We're here to help you ensure that it does.
SERVICING, MAINTENANCE & PARTS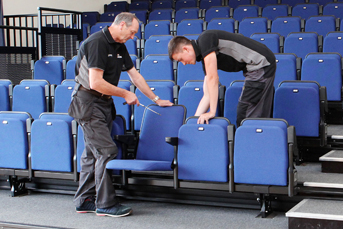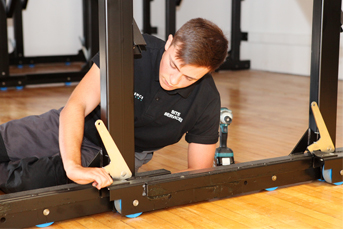 Why it's a good idea
All our seating and platforms are designed and built to a high specification for long life and low maintenance, which give our systems excellent lifetime value. However, no matter how robust your system, damage from misuse or vandalism can still present a real danger - which can easily go unnoticed.
If you are in the UK, your retractable seating system is covered by the Provision and Use of Working Equipment (PUWER) regulations. These state that any equipment operated in any work place should be kept in efficient working order, and regularly inspected by a competent person with records kept of these inspections.
Don't worry - we can help
Our team of skilled service engineers can help keep your system in good working order. The thorough inspection will:
Eliminate any potentially dangerous damage, which isn't always obvious on a quick visual inspection
Reassure you that you have done everything possible to ensure the safety of your staff and audience
Fulfil your legal obligations under PUWER regulations
Help you to obtain relevant insurance using your certificate of inspection
Prolong life expectancy of the system
You can also order genuine parts from us for your seats, no matter how bespoke. In most cases, we can help with parts for other manufacturers' chairs too.
The service
Our team of engineers are experienced and conversant with the latest regulations. They are able to guide you through your annual service and safety inspection effortlessly. We offer a comprehensive service package for both our own and other manufacturers' seating systems, which includes:
A full yearly inspection and service
Certificate of inspection (providing all safety-critical work is carried out)
Replacement of small parts
Expert advice on maintenance
Reminder when your service is due
Emergency call-out
The option to fix your price for 3 or 5 years
Book it now
To book your service now, or just to make a servicing enquiry, use the form here.
Return it to our after sales department on aftersales@audiencesystems.com
You can always call us for a quote on +44 (0)1373 865050 or to find out a bit more about what's on offer, download our After Sales brochure using the link below.
Refurbishment
From a spruce-up to a complete overhaul, our after sales team can also make your seating look good as new. Find out more about our refurbishment service here.
Downloads
To download our after sales brochure, please click here.
Get in Touch
You can contact the after sales team on +44(0)1373 865050. For out of hours emergency enquiries, please call +44 (0) 7970 847470.