Sports
Nowhere is the crowd such an integral part of the event as at a sports venue. Their comfort and sightlines need to be balanced against more functional considerations such as the capacity, flexibility and durability of the seating.
Flexible Arrangements
A fixed retractable seating system is a quick and simple way to transform a multi-sports hall from a workmanlike practice space to an atmospheric sporting arena.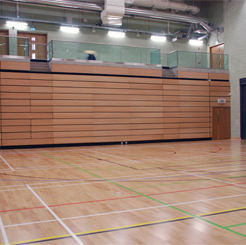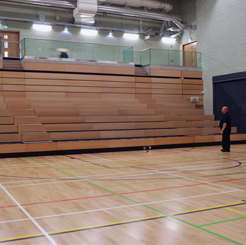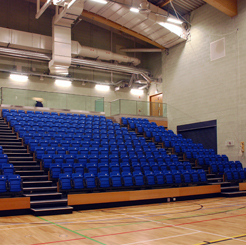 Bangor Aquatic Centre, UK
A travelling retractable seating system can help create different seating configurations when different sized courts are in use. Here, a travelling system sits against the wall for basketball games, but is "driven" at the touch of a button to half way across the hall to help enclose the smaller badminton court. Smaller mobile seating units are moved into place on the short sides of the court to complete the badminton set up.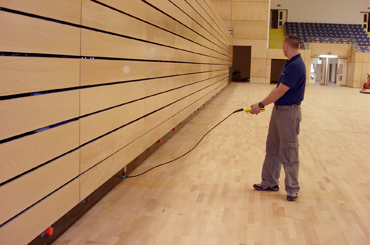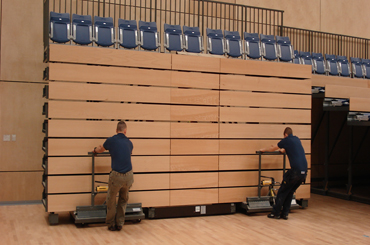 University of Northumbria Sports Arena, UK
For new build sports halls, the seating can be designed to disappear into a recess in the wall, keeping the playing area clear and speeding operation time.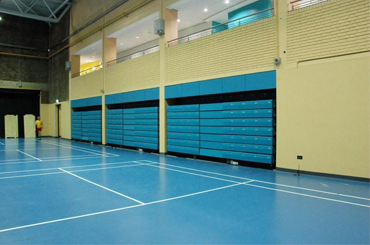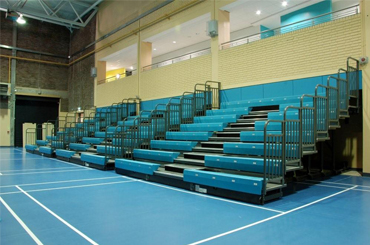 Carrickfergus Leisure Centre, UK
Sports seating doesn't have to be plastic. Here, upholstered chairs add to the venue's appeal as a concert and conference venue. Power operation and automatic chair fold down add to the venue's ability to turn around quickly between events.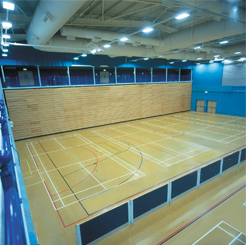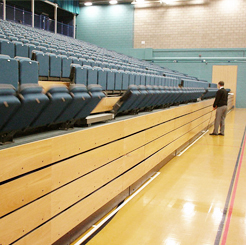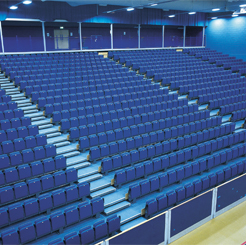 Fenton Manor Arena, UK
Durable benches offer sporting venues an economical, durable, and highly flexible option (below left).
A few rows of courtside seating pull out quickly for training talks, or can be used to add capacity to the balcony seating above (below right).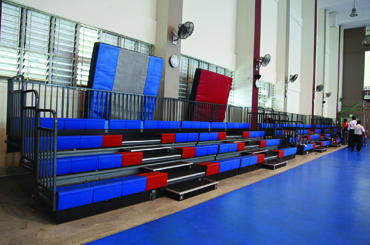 Dunman High School, Singapore
Matrix removable seating can offer anything from a few additional seating rows in front of tiering, to seating coverage for an entire sports hall. The system is quick to assemble, with chairs provided in groups that slot into floor bars. It's self supporting, with no need to damage or include fixings in the floor and all stores away on trollies or stillages.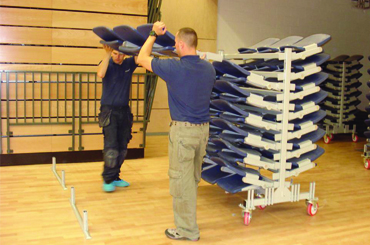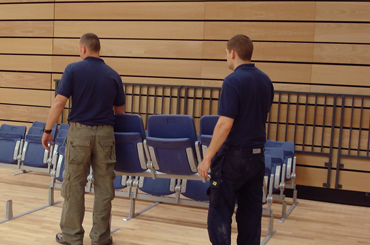 Fixed seating
Our Alpha Centurion chairs feature a spring-free counterweight tip and electrophoretic coating to increase weather resistence for outdoor installations and swimming pool balconies.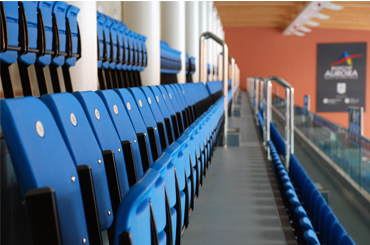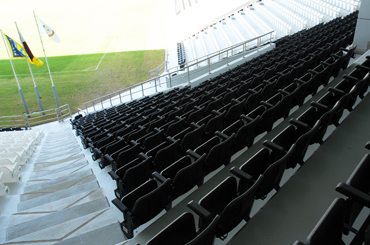 Bangor Aquatic Centre, UK; Al Sadd Stadium, Qatar
For indoors, our Zenith seats are some of the toughest on the market. The Zenith's blow moulded seat and back are specifically designed for strength, the pivot carries a lifetime guarantee, and the chair is tested and certified to the most stringent level of the relevant British standard. Our blow moulded Alpha chair is another tough alternative.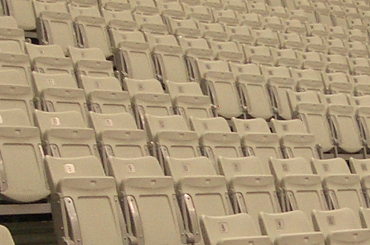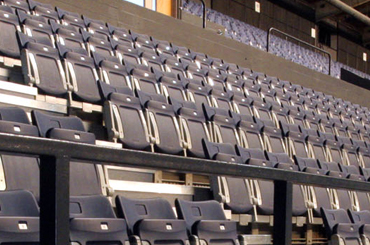 North Shore Events Centre, New Zealand; Wembley Arena, UK
Our Venue Types pages are designed to give you just a flavour of the options available for your space. Please browse our solutions section for more inspiration. Alternatively, you can view some case studies or contact us.