Private, clean, economical sleep for travellers – Triple the revenue for hotels and hostels - High quality nap spaces for workplaces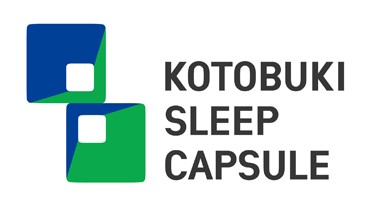 Sleep capsules were invented and designed by Audience Systems' parent company Kotobuki Seating as far back as 1979. The original 'capsule hotels' were an innovative way of providing rest for business people and travellers in Japan's bustling cities. People all over the world were intrigued.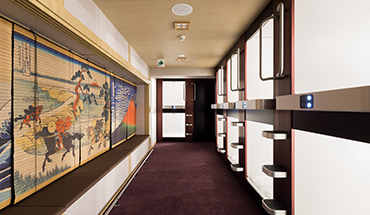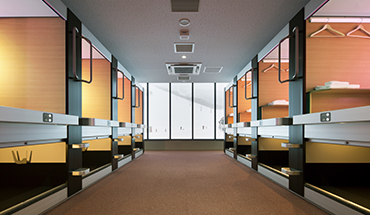 Over the years, the design, functionality and applications of the sleep capsule have grown and diversified. Sleep capsules and sleep pods are popping up worldwide.
Hotels and hostels are converting floors to increase revenue, whilst ferry companies, health providers, emergency services and rail operators are seeing the benefits of providing restful space for employees and customers.
Workers and travellers, meanwhile, are welcome the convenience, comfort, privacy and amenities a sleep capsule can provide.
With Kotobuki's sleep capsules arriving on site in kit form, accessibility for installation is not an issue. Altogether, Kotobuki have now manufactured and installed over 60,000 capsule beds worldwide!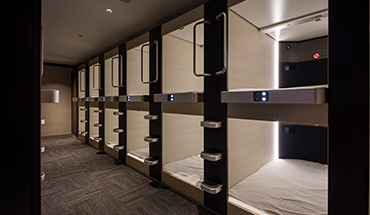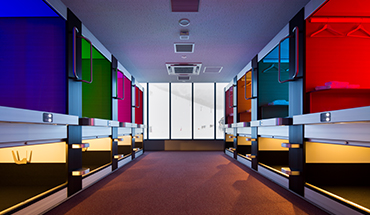 In the forty years since their invention, the capsule hotels and hostels that Kotobuki helps to create have, of course, evolved. Nowadays, they offer more than just a bed for the night. There is a choice of storage solutions for guests' belongings, welcoming areas for relaxation, and a variety of accommodation including family rooms. Alongside the traditional capsule beds, Kotobuki have developed larger capsules with integrated storage space, and even a sleep cabin that functions like a micro room with private space where a guest can stand to change.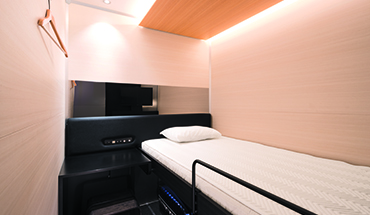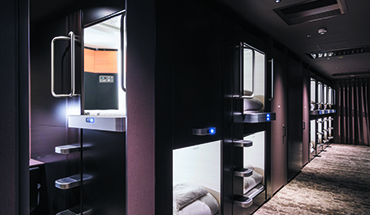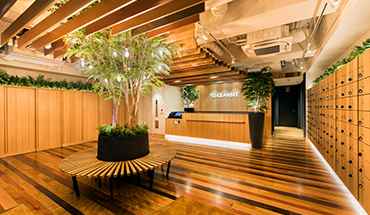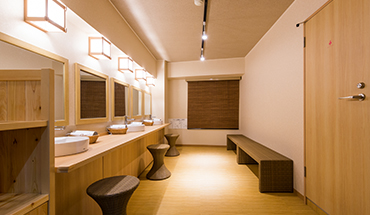 40 years of expertise and design experience
Now UK-based Audience Systems and Kotobuki have come together to offer the sleep capsules to the European market. Customers will benefit from Audience Systems' local presence, engineering and servicing capabilities, as well as Kotobuki's sleep capsule expertise formed over more than 40 years. This means we can help you create the very best design for your hotel or nap area, with plenty of suggestions and guidance as you plan your project.
New markets and increased revenue for hotels and hostels
You can't argue with the figures. Kotobuki's tantalizing cost-revenue analysis shows the possibilities: Compared to a traditional layout, a floor of sleep capsules and associated facilities can generate a six-fold increase in capacity and a three-fold increase in revenue. You can see more about this on Kotobuki's own capsule bed website here.
Offering capsule accommodation opens up an existing hotel and hostels to a new market. Value-conscious travellers are looking to streamline their spend on overnight accommodation in order to maximise the budget they have available to spend on other things – food, excursions and new experiences. Capsule hotels offering sleep capsules and micro rooms are an attractive option for people who might otherwise have stayed in a traditional hostel. They offer travellers a clean, private and fun alternative experience – with a dash of Japanese culture thrown in.
Outstanding Welfare Facilities for Employees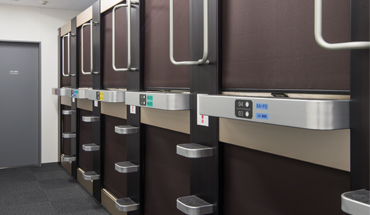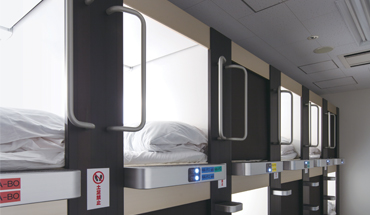 Those who need to sleep on or between shifts – healthcare workers, emergency workers, drivers and contractors are often those who need to be the most alert at work. Providing poor quality, crowded nap rooms makes little sense – but space is often at a premium.
Likewise in industries such as law, banking or technology, where people may need to work long hours from time to time to complete a deal or a project, it makes sense to provide good quality sleep facilities for employees. Employee welfare, effectiveness and retention can all benefit.
Kotobuki's capsules have been used in a wide variety of workplaces to fit out sleep rooms where people can relax, recharge or sleep in a space of their own. Employees appreciate the privacy and amenities of the sleep pods, which are comfortable, sound insulated and include personal touches such as light and climate controls. Employers appreciate the space efficiency and ease of maintenance. If there is a little more space available, two stacked sleep capsules can be placed in the centre of a space with one accessed from each side to create two private micro rooms.
Kotobuki's sleep capsules are manufactured at their specialist factory in Japan and brought to site in kit form. As long as there is a door to walk through and a structurally sound floor, capsule accommodation can be installed in any workplace.
Comfort in Transit
Kotobuki's sleep pods have also been installed at airports and even on passenger ferries. So now anyone can enjoy good quality rest whilst on the move!
A Superior Product
Kotobuki's attention to detail ensures that the design of Kotobuki's sleep capsule prioritises both human comfort and ease of operation.
Stability. Our sleep capsules are fixed to the building. They do not move around or lean. In fact, Kotobuki commisioned structural calculations from the Structural Architect Organisation in Japan to ensure they are safe in earthquake zones.
Venitilation and infection control. Our fans are quietly tucked behind the headboard to minimise noise. Our extraction systems remove air from the capsule straight into the building's ventilation system without first circulating it through other capsules in the room.
Maintenance. Our sleep capsules are not sealed units. Should maintenance be required, it is simple to remove the interior panels to access services.
Durability. Our sturdy panels to not warp, crack, let in the light.
Aesthetics. Our warm range of finishes creates a welcoming ambience in your hotel or rest space.
Features
Choice of front or side entry capsules, creating a large range of possibilities for space planning. See Options tab for more details.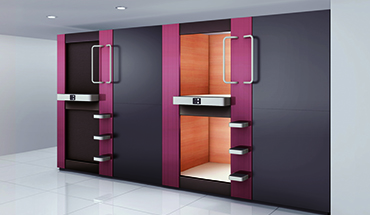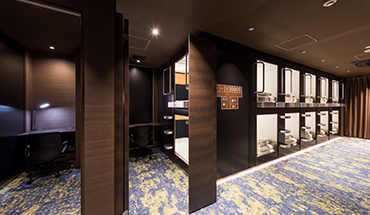 Traditional compact capsules, larger capsules offering more space, or sleep cabins with stand-up space.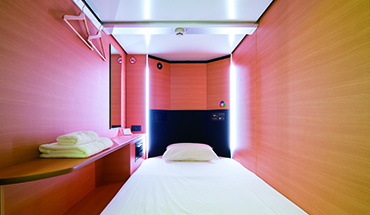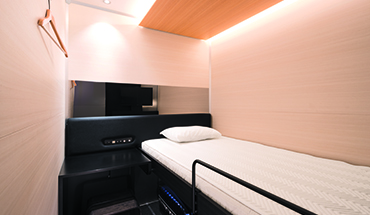 Possibility to integrate sleep capsules into a private nap room or family micro room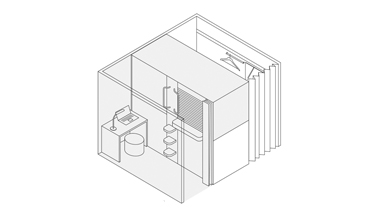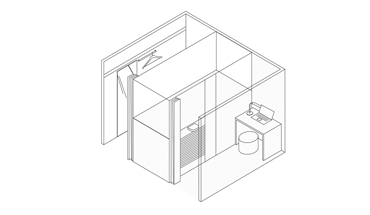 Optional integrated luggage storage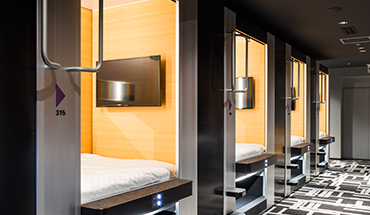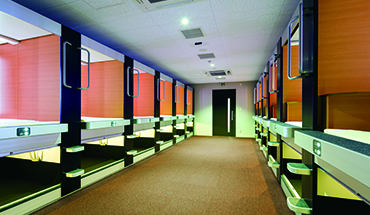 Low maintenance, scratch resistant, easy to clean interiors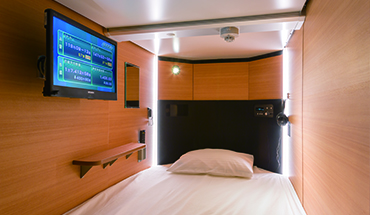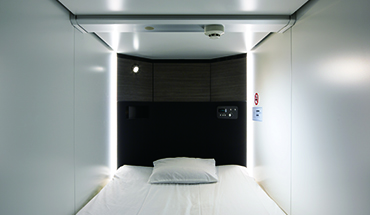 All materials are fire retardant or non-combustible
Integral sound insulation
Durable aluminium and steel structure
Choice of contemporary colour palettes (see options tab for more details)
Suitable even for buildings with limited access – the beds are manufactured in kit form and assembled on site by our engineers
Accessories included with the Sleep Capsule
Lighting
There is an adjustable LED light behind the headboard for general illumination of the capsule, as well as a bedside light with adjustable angle for reading.
Power socket, USB port and accessory pocket
The accessory pocket is designed to store items such as jewellery and watches
Night panel
Including controls for the lighting, fan and alarm clock
Headboard
Padded headboard with breathable mesh cover
Number plate and illumination button
For easy identification of capsules and to allow the guest to illuminate the sleep capsule before entry.
Roller blind
100% polyester, fire retardant pulldown screen for the front of the capsule
Steps and handrails
Non-slip steps to upper level with handrails to facilitate easy entry to the upper capsules
There are plenty of optional accessories too! Please see our options tab for more details.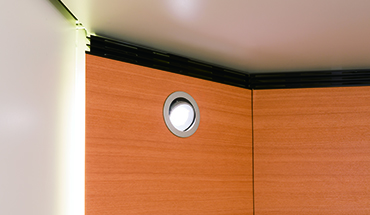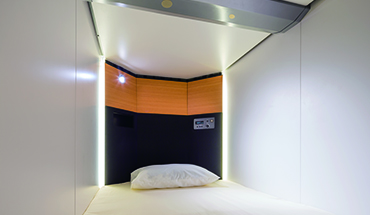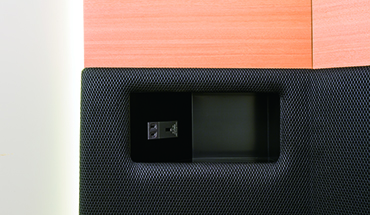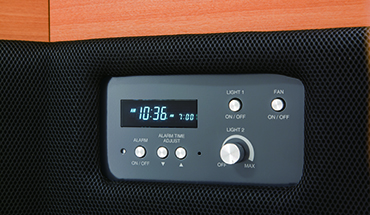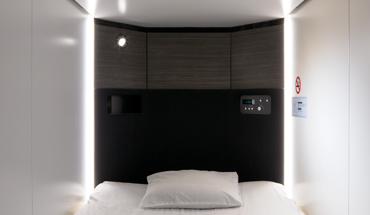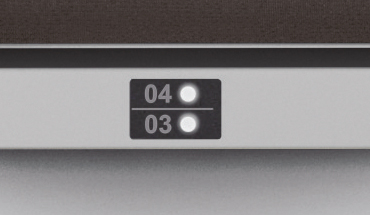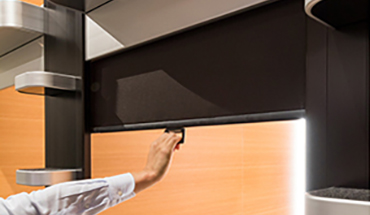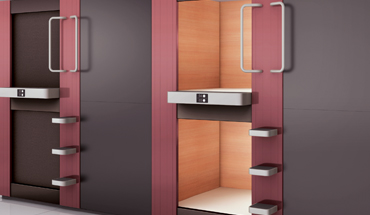 Options
Layout Options
Front entry (tandem layout)
This is usually the most space-efficient option
Front wide entry (tandem layout)
Capsules have an extra 250mm width allowing for a wider entrance and shelf space beside the bed.
Front entry (staggered)
Although not as space efficient as a tandem entry, the staggered layout creates easier access for those on the upper level. The steps for each upper capsule can be placed directly below the capsule entrance.
Side entry (tandem layout)
Side entry beds are easier for guests to enter and exit and can feel more open.
Side entry beds (individual layout)
There can be placed centrally with more private individual entrances from each side.
Visit-E Sleep Cabins
Our Visit-E series sleep cabins are compact self-contained micro-rooms, with private space inside the capsule to stand, change, and get ready for the day. The interior is large enough for a table or luggage storage area. The interior also includes a rack for hanging clothes, a large mirror and a lockable storage area under the bed.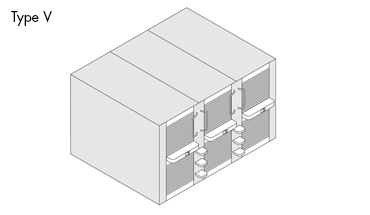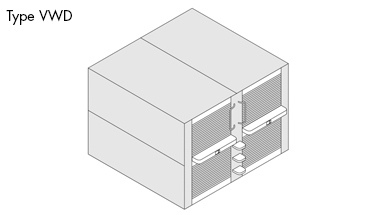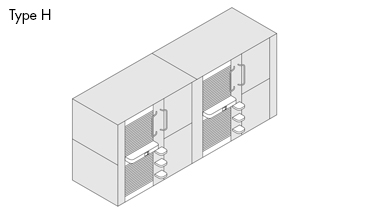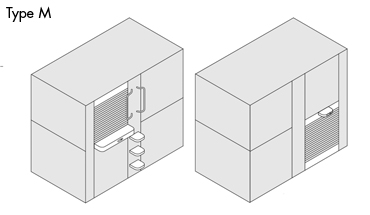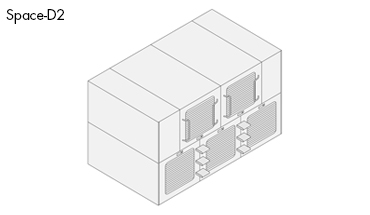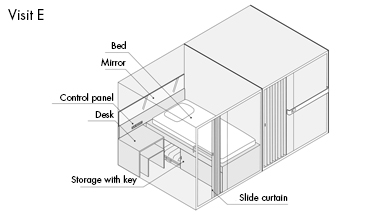 Finishes
Exterior steel Silver vertical + Silver horizontal / Brown vertical + Silver horizonal / Burgundy vertical + brown horizontal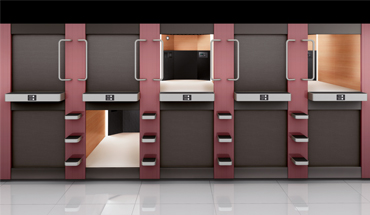 Interior panels
Stucco white / Wood grain – natural / Wood grain – white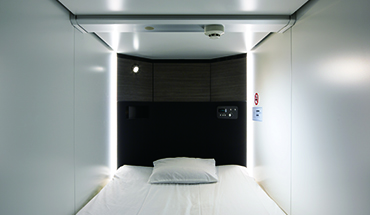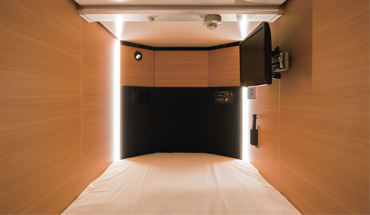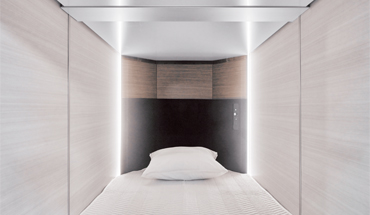 Optional Accessories
(For STANDARD ACCESSORIES included with your sleep capsule, please see Features and Benefits tab.)
TV
Mirror
Liner lighting
TV remote control holder
Drink holder
Hanger hook
Table
Security Box
Storage under capsule