Making the most of your space
What is retractable seating?
Retractable seating (also known as telescopic seating) is best explained by video. We've included one short video below, courtesy of our friends at Strode Theatre.
There are a huge variety of options available for retractable seating, many of which can be viewed on our YouTube channel. Or please browse these pages for a full list of system types and options.
Why choose Audience Systems?
Audience Systems enjoys an enviable reputation worldwide for the quality and reliability of its retractable seating systems. From a lofty arena to a school auditorium or cosy studio theatre, we are proud to have engineered flexible seating platforms to suit a vast range of requirements and budgets.
Prices and designs are custom prepared for each venue, and we can also provide instant 3D visualisations, budget prices and flexible, useable BIM objects. Please contact us today and we'll work with you to create your unique, customised seating solution.
Unbeatable Durability

We design and manufacture our retractable platforms in the UK with our eyes firmly on reliability and longevity. Indeed, many of our customers are still enjoying their retractable seating after 25 years. Our systems include unique features to prevent ja

Verified strength and stability

The integrity of our structure has been independently verified by renowned structural engineers Buro Happold and our TX systems carry the CE Mark, the European mark of safety.

We relish a challenge

Every retractable system is custom designed for a venue's needs. Lecture theatres that disappear. Sumptuous auditorium chairs that fold away almost impossibly. Bleachers that retract seamlessly into a wall. Seating platforms that wheel or drive away. It's all possible!

Suits you

A vast range of options and finishes means our seating can be beautiful enough for a theatre or performing arts auditorium or tough enough for a school hall or sports centre.

Peace of mind

Our comprehensive after-sales service provides all the support you need throughout the lifetime of your seating. Our 14-strong servicing team offer annual servicing, spare parts and call-outs and they are also always available to answer any questions or concerns our customers have.

Straight or Curved

Audience Systems can also offer curved retractable platforms which will be individually designed for each venue. Please discuss your requirements with us.
Making the most out of your space
Unit Types
Fixed
Audience Systems' fixed retractable seating is ideal for installations where the unit will only ever need to be anchored into one position. Simple and easy to use, the telescopic platforms can be opened at a moment's notice.
Recessed
Our recessed system is designed to be neatly stowed in an alcove or under a balcony. It's ideal for creating a flush finish for a stored bleacher in a sports venue, or for integrating retractable auditorium seating with balcony seating above. When retracted, optional fascias provide a neat and tidy appearance and offer extra protection to the unit.
Mobile
Our mobile Telescopic Platform System provides the perfect solution for venues where truly flexible, multipurpose seating is required. Once closed, hydraulic trucks, power trucks or forklifts can be used to move the platforms to their stored location. A series of retractable units can be configured into alternative layouts allowing you to change the dynamics of your auditorium, depending on your audience's requirements.
Travelling
Once retracted, our travelling TX Telescopic Platform System can be driven forwards or backwards to its storage location. The system's simple automatic push button control makes moving the unit effortless, fast and efficient. This is a popular design for sports hall bleachers, allowing spectators to enjoy the action on different sized courts. It can also help to create a larger or smaller auditorium in a theatre or arena, ensuring an intimate experience for audiences.
Double Row Depth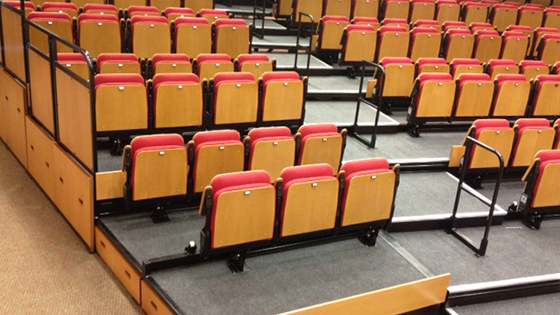 Popular with older theatres, our double row depth option is ideal where a low ceiling or balcony restricts the number of rows that can be accommodated. As the name suggests, each platform accommodates two rows of seating.
Retraction Options
Our telescopic platforms can be retracted quickly and simply using integrated motors, controlled using a detachable push-button pendant. Alternatively, the tribunes can be retracted using a separately supplied "power truck". Smaller telescopic platform systems can be pulled in and out manually using 2 pull handles.
Chair Fold-Down Options
Chairs can be set to fold down automatically as the platforms retract, or can be manually folded down in groups prior to retraction.
Options
Fascia Panels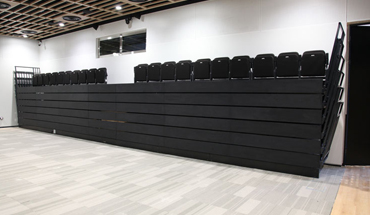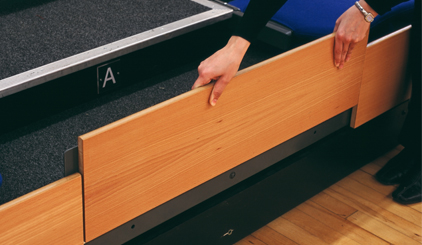 Our standard fascia panels are manufactured from durable plywood with an oak finish in tough melamine. Other materials and finishes are available on request. When the system is retracted they provide a neat and tidy appearance and offer extra protection to the unit. When the tribune is open, the section spanning the aisle simply slides out to create a clear walkway. Specially reinforced fascias for sports competition venues can be provided if required.
Deck Options
Phenolic non-slip deck flooring - a popular material for use in sports venues and arenas, this material is easy to clean and durable.
Heavy duty carpet - available in a wide range of colours to complement the interior of your venue.
Removable Drapes and Panels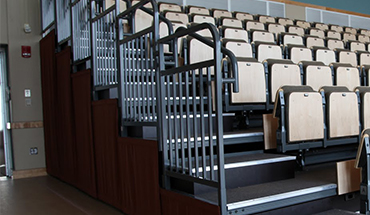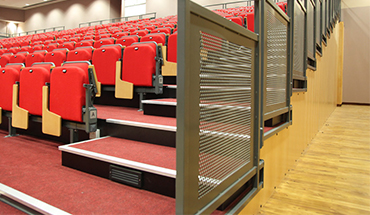 Our removable drapes and panels can be fitted to the front, rear and/or side of the system to hide its under structure and prevent unwanted access.
LED Aisle Illumination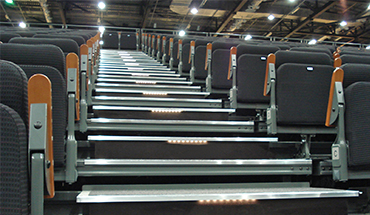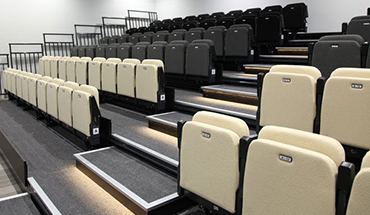 Work off a low voltage power supply which makes them cost effective and easy to run. They have an optional battery backup which is activated in the case of power failure.
Rails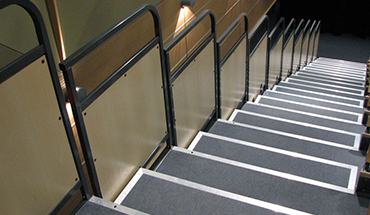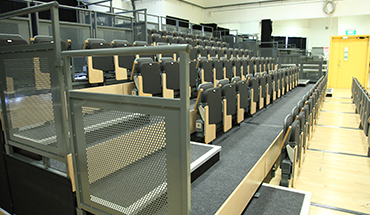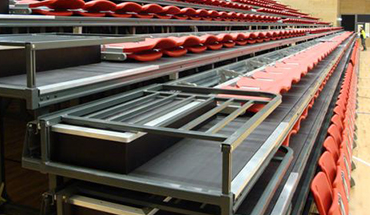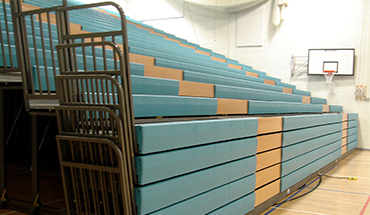 Our comprehensive range of rails has been designed to suit most requirements, however bespoke options are available on request. As standard, we offer timber, steel tube or perforated steel designs.
Our rails can be fixed to the telescopic system in a number of ways:
Removable rails - simply lift from the telescopic system and can be stored in a separate location
Folding rails - fold directly onto the system's aisle before retraction
Self storing rails - stay on the unit as it retracts, stacking effortlessly to the side of the platforms.
Take a look at our rails video to find out more!
Find Out More
Please download any information you require from here, including BIM files, Datasheets, and our handy Dimensions and Capacity Guide, which will help you calculate the seating capacity of your venue.
Alternatively, let us do the work for you - contact us for expert advice, custom designs, CAD drawings, 3D visualisations, BIM objects and prices. We're also more than happy to visit you at your venue or show you all the options available in our new showroom.