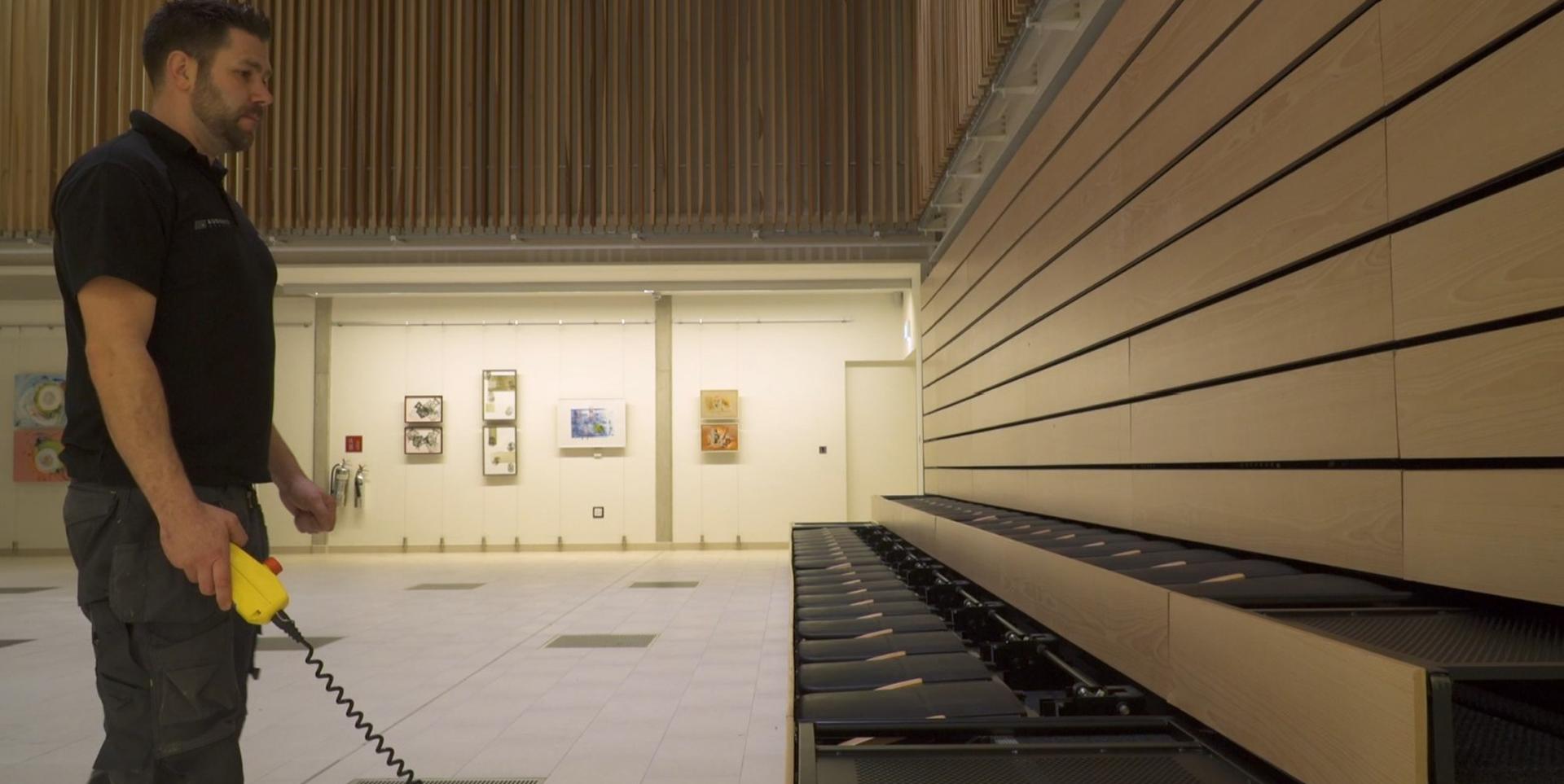 How Quick is Retractable Seating?
Understandably, one of the most common questions we get asked by our customers is just how quick retractable seating really is. After all, it's probably the benefit we talk about the most! So we've put together a whistlestop video guide, which should feel about as quick as your seating.
Of course, there are almost endless possibilities for the specification of a retractable seating system, and we couldn't cover them all in this quick video! But here are a few rules of thumb, if quick set-ups are one of your priorities.
Limit the number of detachable accessories Each item that you have to remove from the seating, stack on a trolley and wheel away will add time to your turnaround. So consider choosing items like "self-storing" rails and drapes which concertina together as the platforms close. Anything that has to be taken off the seating unit also requires storage space and carries greater risk of being mislaid!
Consider the size of your crew If you have a team at your disposal, lucky you! It sounds obvious, but if you can get a crew of people to undertake tasks like folding down chairs before you retract your seating, it will take very little time – especially as our chairs can all be folded down in groups. If your seating units are going to be set up by one caretaker however, consider "semi automatic" seats that fold down automatically as the platforms close. He or she will thank you too!
Design in the seating early If yours is a "new build" space, it's really important to consider the retractable seating early in the design. Audience Systems offer a free design and consultation service, so you have nothing to lose. At this stage we have the opportunity to work with you to ensure that the dimensions of the room are right for your optimum seating set-up. We can also consider adding features to the space like a recess for storing the seating unit. This means that the seating unit will not intrude on the room when closed – an effect that would otherwise be achieved by having to wheel the seating off to a separate storage space on special trucks.
Consider all possible set-ups when specifying your seating How are you planning to use your auditorium? It's better to consider as many different set-ups as you can from the start. If you're planning to hold events with different audience sizes, we can build in "Partial opening" systems so that you can adjust your auditorium quickly. If you're going to include some "in the round" productions with the stage in the centre of the room, we can make your retractable units mobile. Why invest in retractable seating and then spend your time stacking and unstacking loose chairs?
Choose a reliable system Nothing adds to set-up time like a breakdown! Our platforms are specifically engineered for long life and low maintenance, and our aftersales team, the largest of its kind in the UK, will be there maintain your seating throughout its life.
To take advantage of our free design service, and ensure that your seating is fit for purpose and more, contact us on +44 (0)1373 865050, or email enquiries@audiencesystems.com.
And if you already have retractable seating, and you're looking to upgrade its functionality, we can help with that too - even if we didn't make your seating. Call our aftersales team on (0)1373 865050 or email aftersales@audiencesystems.com.