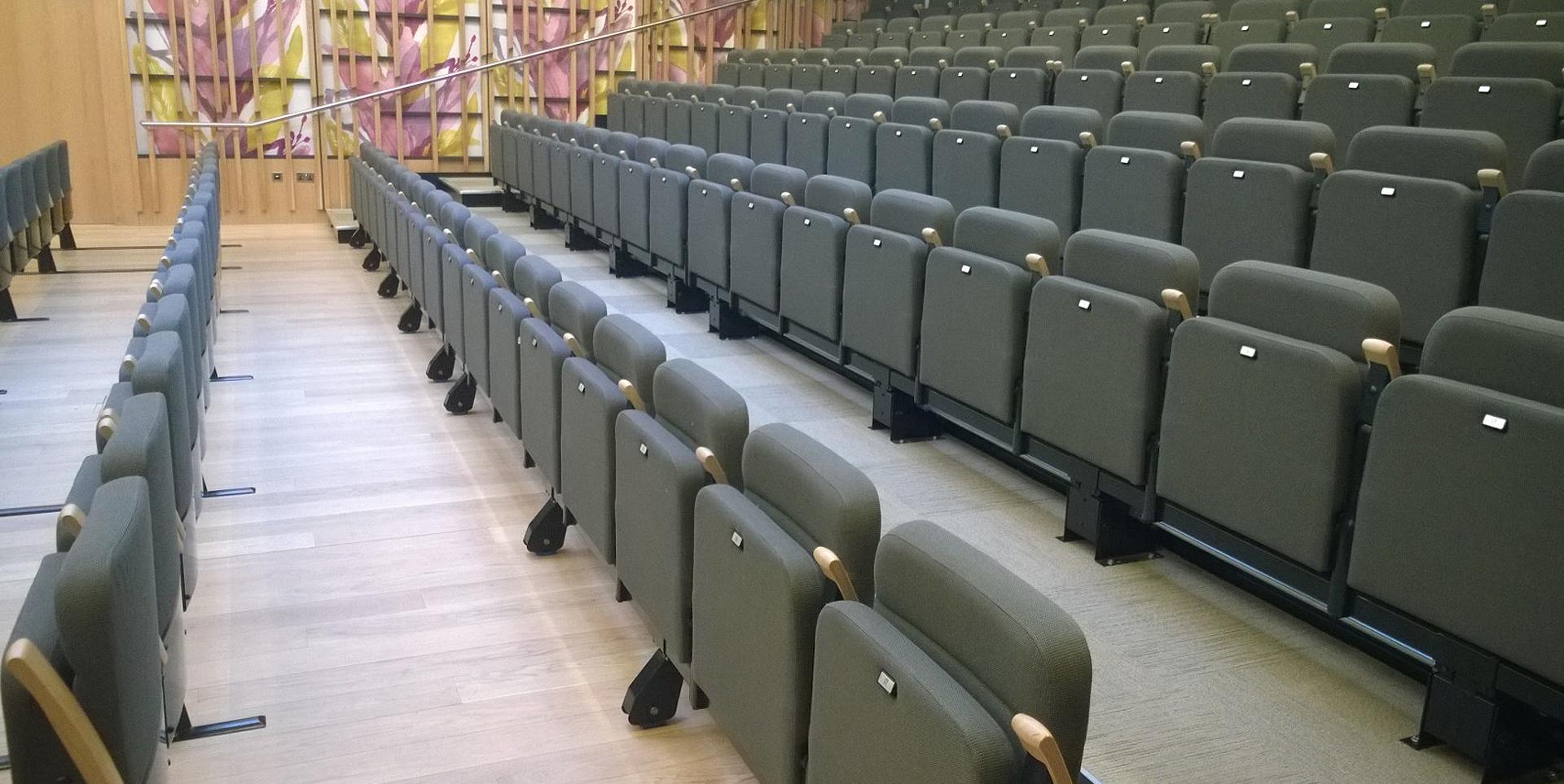 Less Space, More Room - Challenges for School Facilities
How multipurpose spaces in schools can accommodate larger audiences without compromising light, space or quality.
Hard-working spaces
Pupil numbers are on the up in many schools worldwide. In the UK, for example, the number of extra pupils coming into the school system equates to a mind-boggling 400 new, 1050-pupil schools requiring construction by 2026* – although most of the growth in the short term will be taken up by existing schools. In the international school sector, increased global wealth and mobility is fuelling a surge in pupil numbers – great for business, but challenging nonetheless for school managers. The pressure this all puts on space seems completely at odds with the other aspirations we have for the learning environment - more open layouts, more natural lighting and improved acoustics for example.
Capacity without compromising well-being
Nowhere is this more the case than in multipurpose spaces such as sports halls, assembly halls and theatres. Gavin Ward, Head of Sales for Audience Systems, designs seating solutions for many of these areas, and explains the challenges. "Schools are coming to us needing to fit more students or parents into their performance hall or gym, but they don't want to compromise. We're never keen to block windows, interrupt sightlines into other areas or make the space feel cramped. And with pressure on school staffing, the schools are reluctant to introduce complex seating systems which take a lot of time to operate."
Audience Systems have come up with some increasingly creative solutions to help schools achieve the maximum capacity in the space available. "Retractable bench systems are the classic answer. They're simple, quick to operate, and you can fit in more rows of seating, and more students per row," says Gavin Ward. "But many schools would prefer to have individual chairs, and there are lots of options to increase capacity there too. For example, we've seen a rise in popularity of retractable systems with two rows of seats per level – really beneficial if ceiling height is limited, or you want to avoid blocking high windows. We've also launched a new chair ('Optima') designed specifically around space efficiency.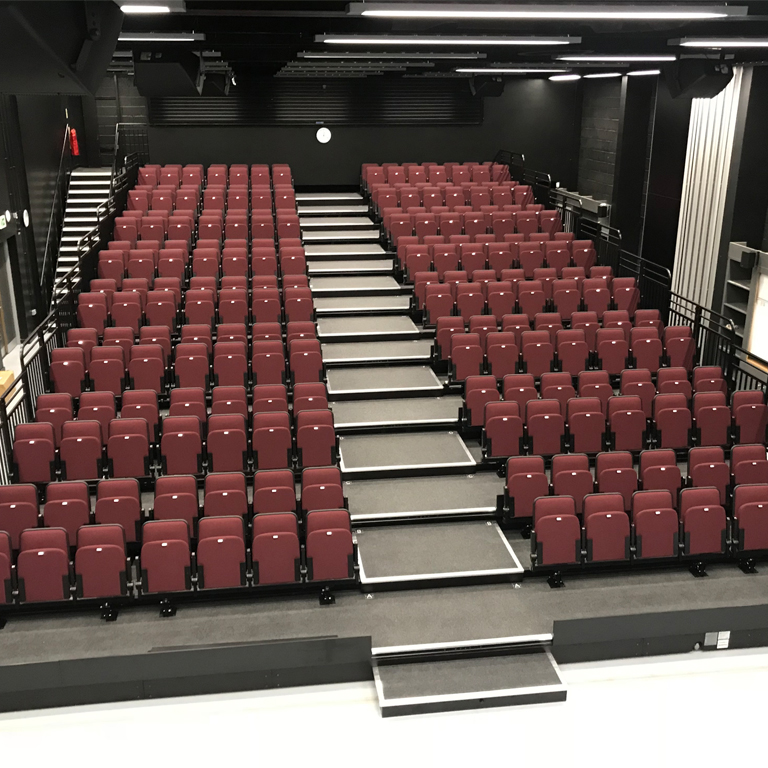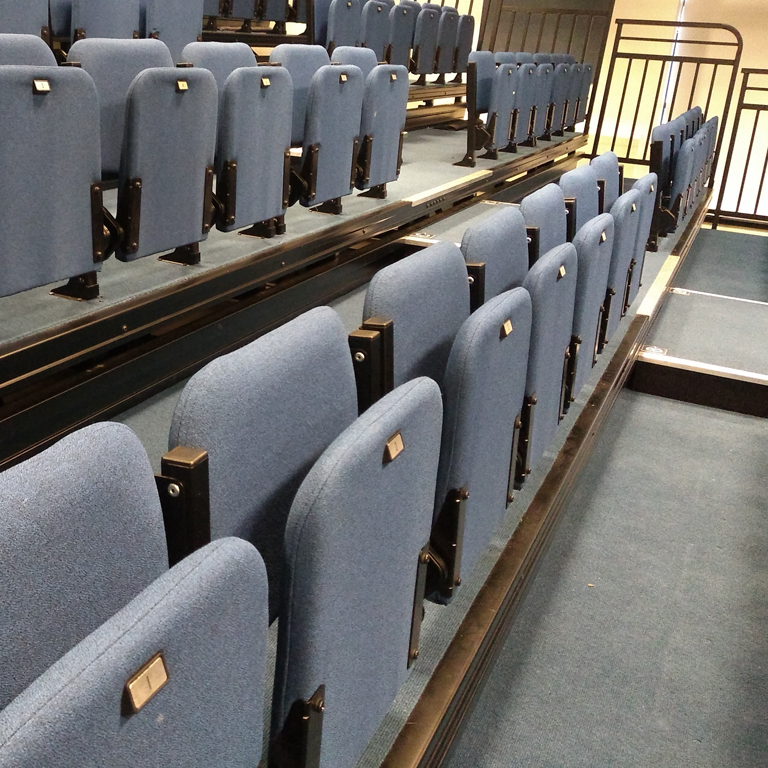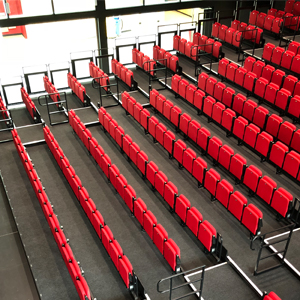 A double-depth retractable system at Rushcliffe School; Optima chairs at Larbert High School; double depth rows at Eastside Preparatory School, combined with perforated side rails, maximise light from the windows.
"We're also seeing more call for our hydraulic staging modules (pictured below). These are stored with their tops at floor level, and are lifted out of the floor to form a stage or even tiering. So if you have a debate one day and a school play the next, you can use the same kit to build completely different spaces. You can create quite low-rise rakes from these, which prevent the space from feeling too crowded.
"In sports halls, we're being asked to be really creative. We've provided stacks of retractable seating that can retreat into alcoves so the space can be used for exams. We've also made retractable units that can be driven to different positions within the hall to create different sized courts for different sports. In both areas, we can provide labour-saving options like push-button operation or folding rails, so rooms can be transformed in minutes.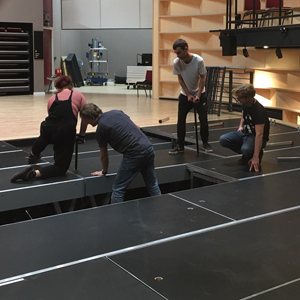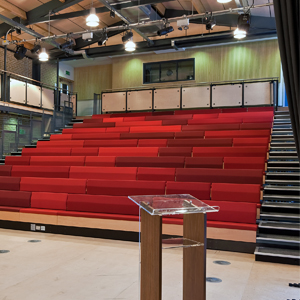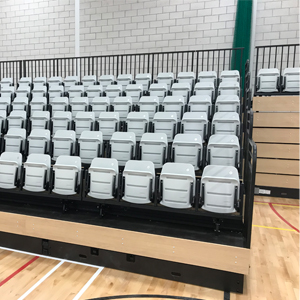 A room with hydraulic 'Airstages' being transformed at the University of Sussex; Bench seating that slides under a balcony at The Mall School; mobile (completely removable) retractable seating units in the sports centre at Sedbergh School.
Capacity without compromising quality
So how about the quality of the space in the midst of all this optimising? "We talk about that a lot actually," says Gavin Ward. "In the UK, school designers are now required by the DfE to choose chairs and benches to a very high strength standard – the highest level of the relevant British strength standard in fact. So there's no point choosing a low quality chair.
"There's also the question of making sure the learning environment is of a high quality. We know this has been shown to improve morale and performance of both students and teachers. So now architects don't just say to us 'include a retractable system with an upholstered chair.' We have a lot of discussions about the fine details – carpets, trims, fabric choices, shaped armrests, LED lighting, timber fascias to hide away the closed units. Added together, these things make a real difference to the atmosphere in a room."
Audience Systems offer a free design service to schools and school designers. To find out more, call +44 (0)1373 865050 or email enquiries@audiencesystems.com. *Source: Scape Group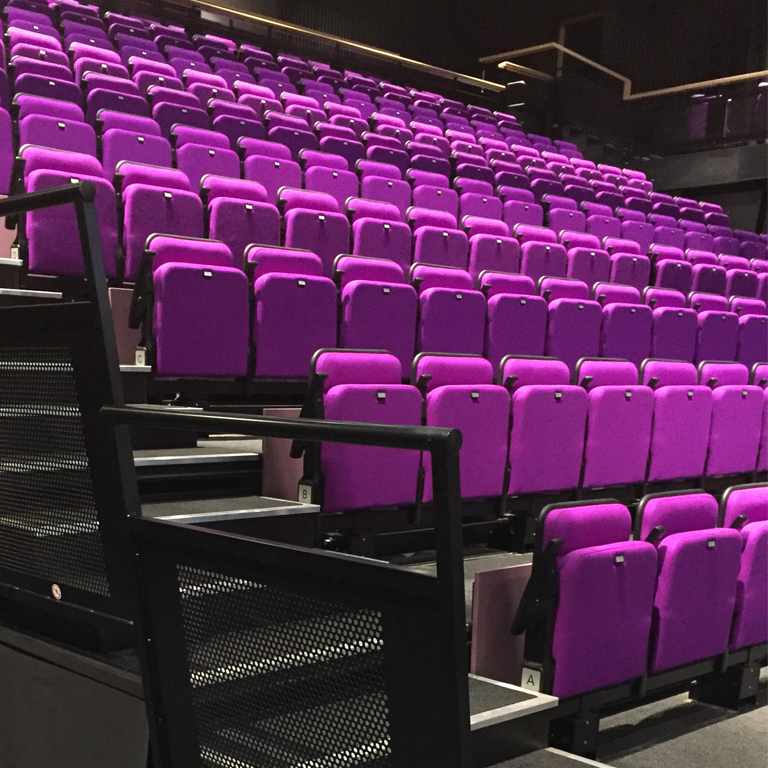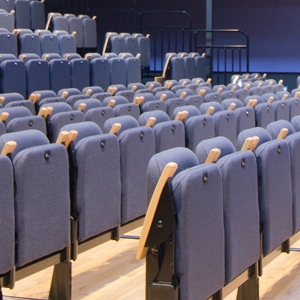 High specification retractable seating at Bristol Grammar School, the American Community School and St Mary's School.