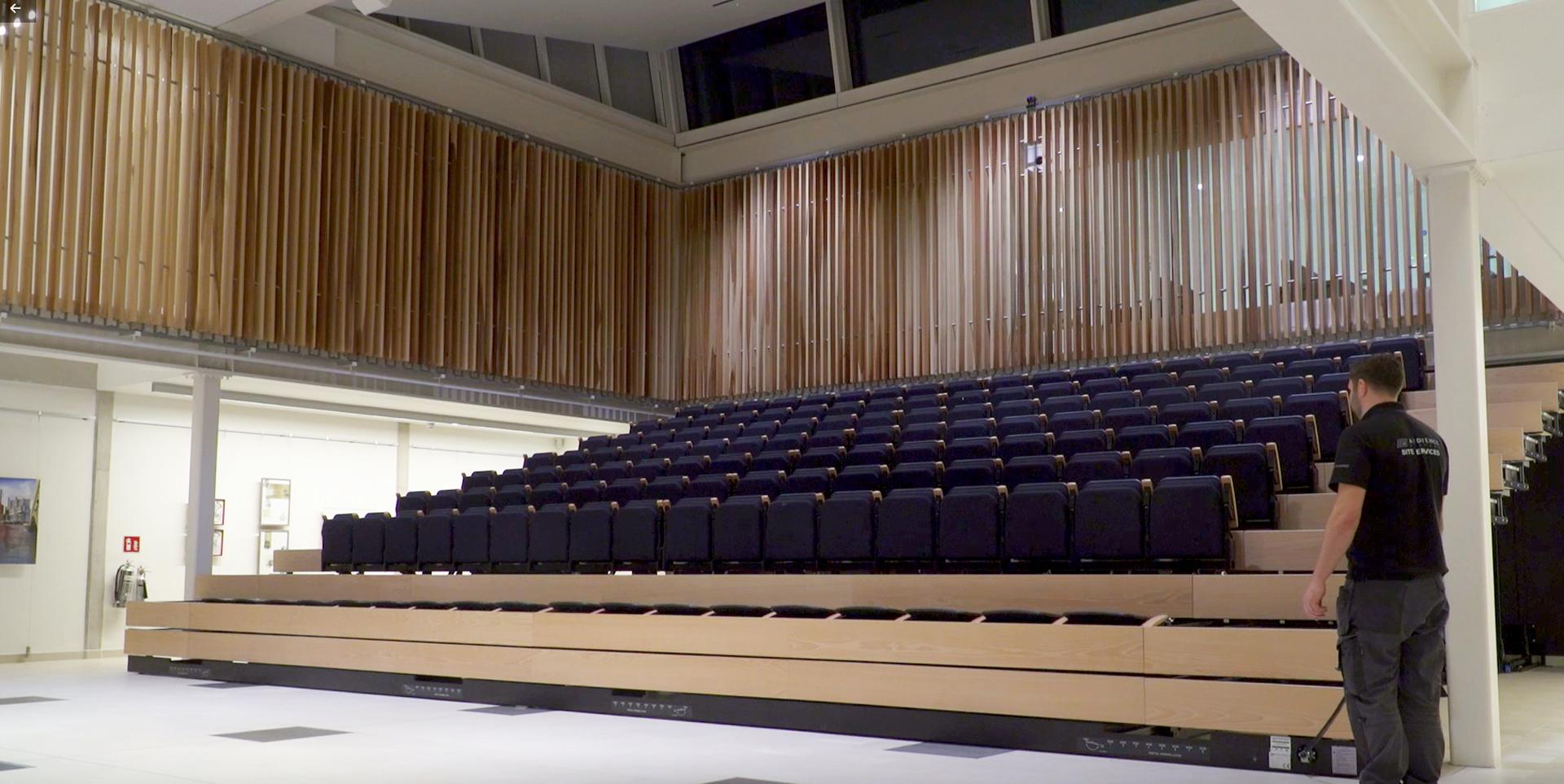 Extending the Life of Retractable Seating
If you have retractable seating, or are thinking of investing in it, you're probably aware it will need regular servicing – like any other piece of mechanical equipment. We service our seating units once a year.
But you may be wondering what you can do on a day-to-day basis to look after your investment. Every retractable system we sell comes with a bespoke Operation and Maintenance manual, and you should always follow the instructions for maintenance given in that. But, particularly for those who have yet to purchase their seating, here's a quick overview.
Specify for Durability
There are a number of options you can choose when you buy your seating that can help to keep the seating in good order and looking great for many years to come. The good news is that if you don't have these features already, many can be retrofitted by our Aftersales department – even if you did not buy your seating from us.
Chair Panels – if you can, choose chairs with panels to the rear of the back and/or underside of the seat. We have timber or plastic options. The plastic options wrap right around the corners of the upholstery offering excellent protection. The panels to the rear are especially popular with schools and arenas, preventing wear caused by the feet of those sitting behind. Sometimes schools also choose under seat panels – the most common cause of damage to fabric on the underside of seats is – believe it or not – chewing gum.
Fabric Wear Resistance – we only upholster our chairs in "contract-grade" fabrics that adhere to our flammability requirements, but you still have a huge choice of fabrics. The Martindale test is a standard industry test which simulates chair use and measures wear resistance in "rubs". We can recommend fabrics with an appropriate "rub rating" for your venue.
Fabric Stain Resistance - You should also think about stain resistance – these days even "healthcare grade" fabrics aren't plasticky or shiny – they look as soft and welcoming as any other fabric and would grace any auditorium. We can also recommend antimicrobial fabrics.
Platforms - if you think there is a danger that those with access to the space may attempt to climb on the closed platforms, then consider specifying fascias for the front of the system. The seating will look neater when closed too! You should also consider screening any exposed sides of the system using removable drapes or panels.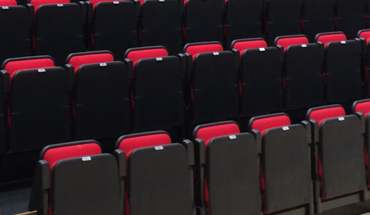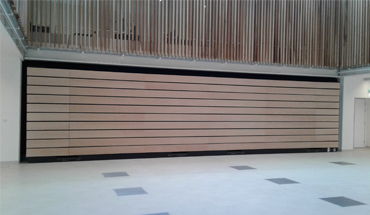 Ensure Correct Operation
Correct operation is really important – and not just for safety. Anything that causes the platforms to stall or jam may also cause wear in the system. Although the actual opening and closing of our retractable systems is simple – either with removable handles or with a detachable push-button controller (or, in some arenas, a removable "power truck") – there's a little more to it than that. Correct procedure for closing platforms includes:
Having a planned procedure for closing units. For example, if your system has theatre seats that need folding down manually, you should plan this so that you never have to walk on the backs of other folded down seats.
Checking that all detachable items, such as removable rails or side panels have been fully removed.
Sweeping the floor where the wheels will run – before both opening and closing – to prevent dust, litter and small objects from getting caught up as the platforms are in motion.
Checking around the understructure for objects that might get caught in the mechanism. This is especially important if people could have accessed the area underneath the seating platforms - someone may have found the space under the unit a tempting place to store things! As you can imagine, this can cause damage as the understructure closes; in the worst case scenario, it can cause the system to jam
Checking around the chairs for items left lying on the platforms. Even large items of rubbish can cause issues. The chairs need to fold flat for the platforms to close properly.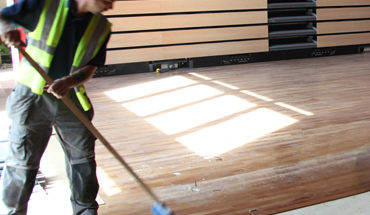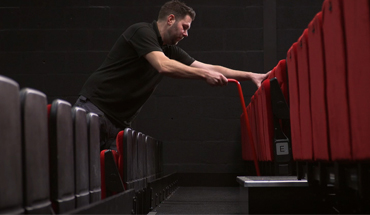 Ensure Correct Use
It goes without saying that the seats are designed for sitting on and the aisles are designed for walking on! Ensure that your spectators use the seating correctly – for example not standing on chair seats or arms, and not climbing over chair backs to access the row behind.
Regular, Scheduled Chair Checks
There are components of the system, particularly chairs, that should be looked over from time to time if the seating is in regular use. These checks should be carried out by a competent person who has been trained by us. Items to be checked include fixings, linkages, and chair fold down mechanisms. Our Operation and Maintenance manual carries a detailed list. These checks are primarily for peace of mind and safety, but identifying any issues early can also prevent wear on other chair components.
Looking After Fabrics
Fabrics are usually the first part of a seating system to show wear, so a fabric care routine is important. We recommend that you:
Vacuum the carpet after every use of the seating unit.
Vacuum chair fabrics regularly to clear dirt and grit.
Get a damp cloth to spillages while they're still fresh to prevent staining.
Bear in mind the composition of your fabric when it comes to cleaning. We'll include a cleaning guide with your Operation and Maintenance manual.
Have a professional deep upholstery and carpet clean once a year – we can include this in your annual service.
Check upholstery as part of your weekly chair checks to catch any wear early.
Keep a Small Package of Spares
When you order your seating, we recommend including a basic package of spare parts so that minor problems can be quickly rectified by a competent person in your team. We can recommend an appropriate package for your system.
Keep Up Your Annual Services!
Finally, and THE most important thing – make sure your seating is serviced every single year. Remember that retractable seating is a structure with moving parts that could potentially be supporting hundreds of spectators, students or theatre goers. And it's really safe – providing you get it regularly checked.
Your insurance company will probably also require that the seating is checked and maintained by a competent person yearly, and it's also required under the UK's PUWER regulations – power operated retractable seating is classed as a machine. If you buy your seating from us, our Aftersales team will be in touch once the seating is installed. We'll send you reminder letters every year.
The aim of the service is of course primarily safety – but regular servicing also ensures smooth running of your system, which will extend its life. Our seating platforms have adjustment bolts which our engineers use to "tune" the whole system, adjusting out any unevenness which has crept into the platforms. They also replace any worn fixings, lubricate the system, and conduct an itemized check of components.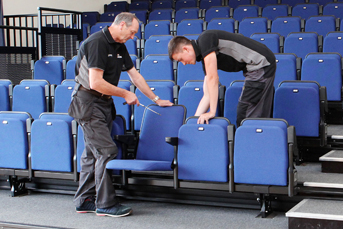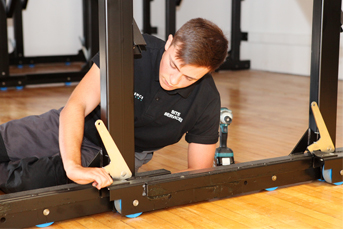 More Information
You should find all the information you need in your Operation and Maintenance Manual, but if you have any questions at all about maintaining your seating, don't hesitate to give us a call. We're dedicated to ensuring that our customers' seating enjoys a long life, and we look after hundreds of schools, theatres, sports venues, arenas and multipurpose auditoriums which have had their seating in place for 25 years or more. We're more than happy to talk through your options. Call Audience Systems on +44 (0)1373 or email us at enquiries@audiencesystems.com