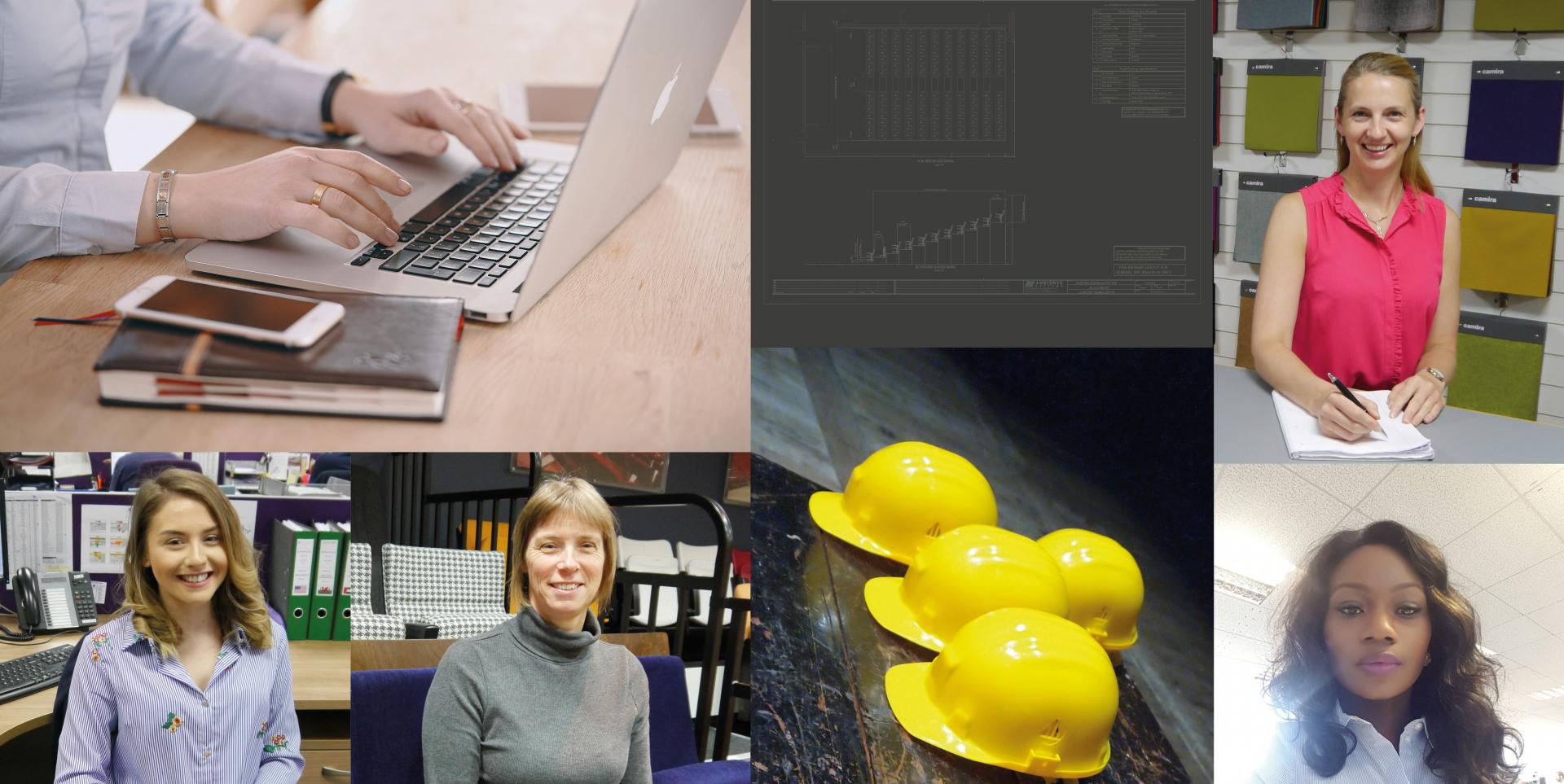 Building Equality
Our female project managers discuss what it's like working in the construction industry today.
This year, Audience Systems is sponsoring the Women of Live spotlight and virtual session with Pollstar and VenuesNow, recognising and honouring professional women for their contributions to the entertainment and sports venues industry. So, as sponsors, and as a major supplier to this industry, we wanted to take a look at some of the women who make a massive difference in our own business - from within our project management team.
Our project managers are the bridge between our UK-based production team and our clients, smoothing the transition from factory to site, and through to completion. They work with a huge variety of venues and clients, from main contractors to arenas, schools and theatres. Twenty years ago, we had no female project managers – in fact, we only had a handful of women in the whole business. Ten years ago, the female headcount had increased, but our project management team was still resolutely male. Today, four out of our six project managers are women. So I spoke to Verity Bartlett, Kasia Czestochowska, Nicole Gibson and Mariane Djedje about what it's like for women working in construction.
What's your background, and what attracted you to a career in project management?
MD: I came from the construction industry, and project management allows me to indulge my passion for challenges. At the end of each project, I have learnt new skills, and built new relationships. This gives me constant development and a real sense of satisfaction.
KC: I moved from elsewhere in Audience Systems, wanting a change of career after nine years working in production scheduling. Project management offered a varied job which allowing me to use the skills, product knowledge and understanding of the business that I had already gained.
NG: I joined Audience Systems as an apprentice. Whilst I was studying at Sixth Form, I weighed up my skills and attributes, and figured Project Management was the way forward. I really enjoy the sense of satisfaction when a project is completed successfully on time, within budget and most importantly to the client's expectations!
VB: Following a career in the military, I had been working in the events industry, project managing weddings, corporate and charity events. My attraction to project management of any kind comes from being a natural organiser; I'm a lists kind of girl and enjoy the challenge of juggling multiple aspects of a single project.
Do you think there are still barriers for women working in the projects / construction industry?
MD: I still feel that there are still barriers for women working in construction. Over the years I have seen some good progress, and you do see more women in project management or quantity surveyor roles these days, but it's still reasonably rare to see women in senior roles at construction companies. Companies I think should encourage women to progress and develop in the industry by offering more training and encouragement.
VB: I saw it in my military career as well. There were many barriers to being successful. Unfortunately, some of these still exist today in commercial and traditionally male-dominated roles across many industries. Women are still required to prove themselves in a lot of cases, but in my experience are more than capable of doing so!
NG: In an ideal world I would love to say no, but although working women have gained more equality throughout the years, I still believe we are sometimes faced with the stereotypical view of 'this is a man's world'.
KC: I think a lot of it also stems from the roles that men and women train for. There are definitely advantages for those with a technical background, and it's still true that more men than women are trained in these disciplines.
So what advantages do you think women have working in construction?
VB: Multi-tasking is an overused phrase, and perhaps now an outdated one, but I believe many women have the ability to think very logically, to see the wider implications and consequences of a decision, and to be able to ask that all important 'what if' question. They are also very adept at prioritising and changing those priorities according to need. Skills which are required in multiple industries, not just construction.
MD: I also think that because construction is quite a male environment, it is quite often an industry in which quick decision-making industry is prized. But this can cause a lot of issues and risks when delivering construction projects! I think women have a critical, analytical mindset, so when it comes to making a decision, they tend to analyse every risk before moving forward. I think that's fundamental to leading a project.
KC: I can't really add to that, however I do also think that charm and politeness go a long way!
NG: I have to agree with Kasia, charm does go a long way! I think women are very good at looking at the bigger picture when it comes to projects and the people involved. Creating relationships with your team members and clients is extremely important to the success of a project.
Do you think people are still ever surprised to find a woman managing their project?
KC: Actually, I haven't – or I haven't noticed!
NG: Luckily, I have not experienced this personally either. Whether this is pure luck or just the way the world is now (I hope so), I am very lucky to not feel judged for being a female project manager.
MD: I do think people are quite surprised, but they don't directly express it. However, sometimes you can sense it. For instance, someone might ask you questions such as, "How long have been doing the job for?" Or they might ask you a lot of questions about your background in the industry. These are questions that are not asked to men ­­­unless they are young graduates!
VB: Yes, I've never had anybody openly express surprise, but I dare say it exists. In some cases, it's still up to us to prove by our actions and our own success that we are just as capable than our male counterparts across a variety of employment roles.
You can meet more members of the Audience Systems team – female and male - here.
WOMEN OF LIVE is on 25th March 2021 at 2pm EDT / 6pm GMT. Register here! https://fal.cn/3e58E