Wilton's Music Hall
London, UK374 seats
Audience Systems are proud to have provided new seating for the Grade II listed Wilton's Music Hall - the only surviving Grand Music Hall in the world.
Wilton's has a fascinating history. It opened in 1859 to much excitement, attracting international audiences with Music Hall stars such as Champagne Charlie and Arthur Lloyd. In the 1880's, the building closed as a music hall and was purchased by a Wesleyan Mission. During that time, the building continued to serve the community in various extraordinary ways – 2000 people were fed there during the dockers' strike of 1889 for instance, and in the 1930s, it provided a safe haven for East End anti-fascists in their fight against Oswald Mosley.
The Methodists departed in 1950, and the building sadly fell into disrepair. A failed restoration attempt in the 1980s left the building gutted and structurally dangerous. However, with the help of Heritage Lottery funding, a restoration of the elegant balcony, the beautiful barley twist columns and the front of house was completed in 2015. Then, in 2020, a smaller but crucial project was undertaken to improve the acoustics and seating in the auditorium.
Audience Systems' Matrix chairs are a perfect solution for the stalls areas. Completely removable, they leave no marks on the floor and can be laid out quickly in groups. The system leaves the venue with the flexibility to remove the seating or reconfigure it for smaller audiences.
The balcony seating is also removable. To create good sightlines within the upper level, custom tiering was installed by Stage and Tiers, who also remodelled the stage extension. In addition, Audience Systems produced some very special removable Espace chairs, some of which are raised to "barstool" height, with footrests.
The 374 new seats do not pretend to emulate the venue's original seating. They are new seats, the venue is old. There is no artifice here. Instead they sit quietly (and comfortably) in the space, offsetting the remarkable beauty of a venue which has weathered so much, and remains magnificent for it.
The Beautiful Word project was made possible by many generous donations and was chaired by Sir David Suchet.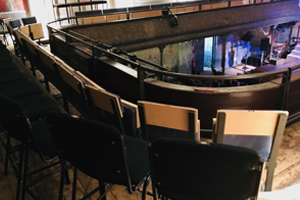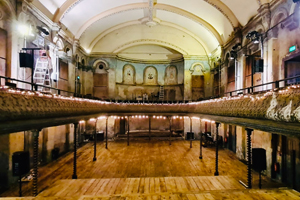 The venue before the new seating was installed
Find out more about this fascinating venue here.
Many thanks to Stage and Tiers for the photographs.