RETRACTABLE SEATING THAT LASTS
At Audience Systems, we design retractable seating systems to look and feel exceptional.
But what really makes our seating systems the very best investment is what goes on underneath the platforms. Our platforms are carefully engineered to last; indeed many of our systems have been in place for 25-30 years or more.
Our video shows how; some further explanation is included below.
Parallel Alignment System
The sturdiest such system in the industry, our hinged steel parallel alignment system ensures that each platform follows an absolutely straight path when opening and closing.

Why is this important?
Think of opening a misaligned drawer. If the left and right side open at different rates, the drawer sticks. In a retractable seating system, this can cause wear and warping. In the worst case scenario, it can cause the system to jam.
Row Locks
Our row locks are exceptionally tough and built to the highest specification from 4mm thick steel section. They are both gravity and spring operated, making them doubly secure. They are suitable for use even in earthquake zones.

Why is this important?
Once open, retractable platforms must be securely locked to ensure they do not move front-to-back as the audience walks around. As well as being an important safety feature, well-engineered row locks will significantly reduce the potential for wear on the system components.
Cushioned Contacts
Our system is designed so that everywhere where the support structure of the deck comes into contact with the top of a column, load is transferred via nylon pads or rollers. This eliminates metal-to-metal contact.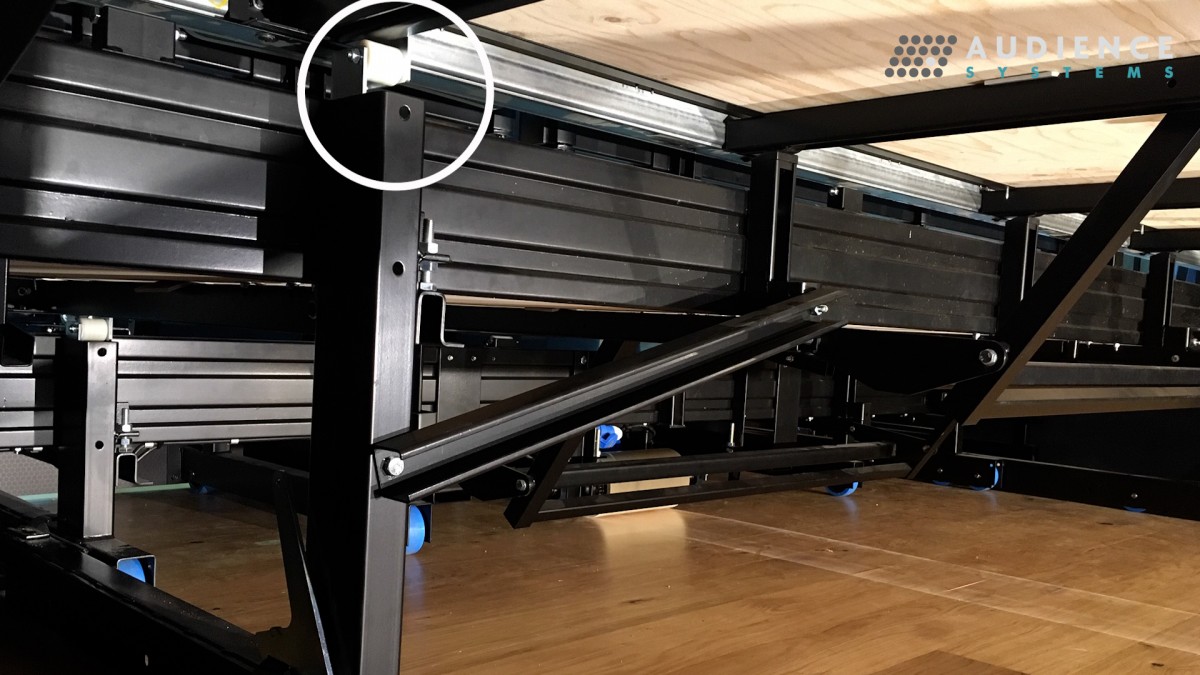 Why is this important?
Metal-to-metal contact is a significant cause of wear and warping in retractable systems. As you can imagine, it also is the cuase of a lot of noise - both when the platforms are being operated and when an audience is making their way to their seats.
Bolted Structure
Our retractable seating is designed with bolts at the top of every column. These allow subtle adjustments to be carried out through the system's life.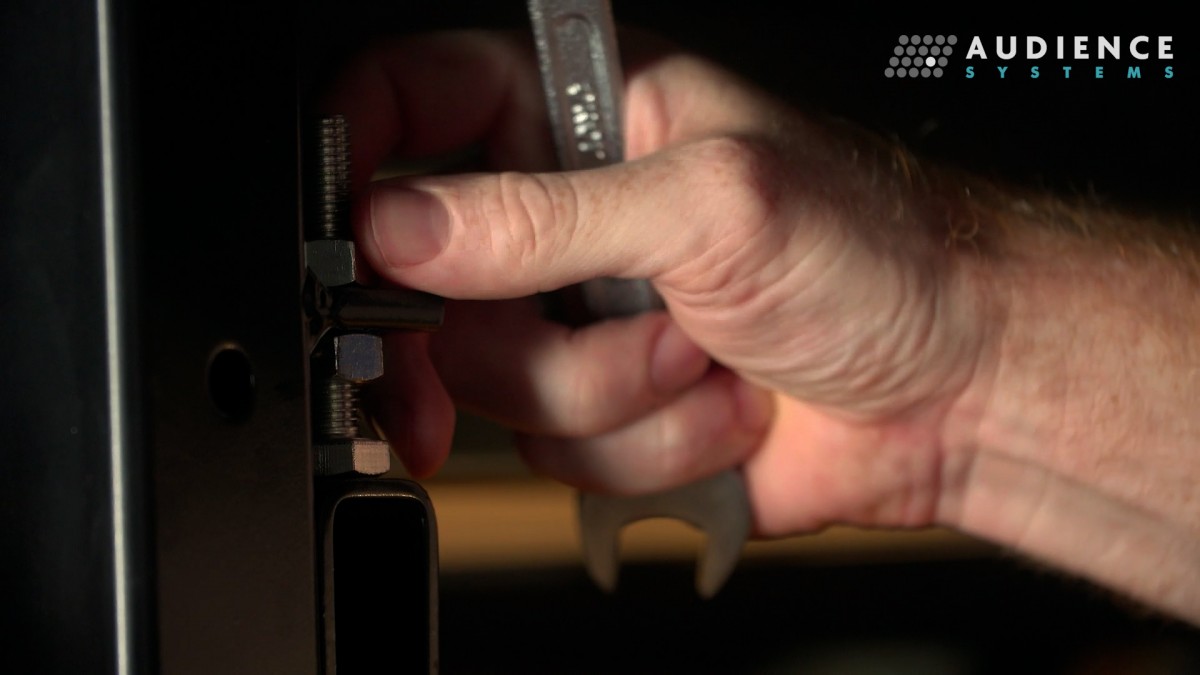 Why is this important?
A retractable seating system is designed to transfer loads down to the ground safely. It relies on an even, smooth floor - however floors settle and move over time. This can leave the weight of the system unevenly distributed across the system, meaning that some components may have to bear more load than they are designed for. While our retractable seating system can safely tolerate a certain amount of settling, uneven loads do cause wear and can eventually cause the system to jam.
Some retractable seating systems rely heavily on welded joints, making them more difficult to adjust. Because of our bolted structure, our engineers can check and adjust each seating system with accuracy every time we service.
Exceptional Aftersales Service
Our aftersales team is the largest of its kind in the UK, and looking after our seating systems is a major part of our business.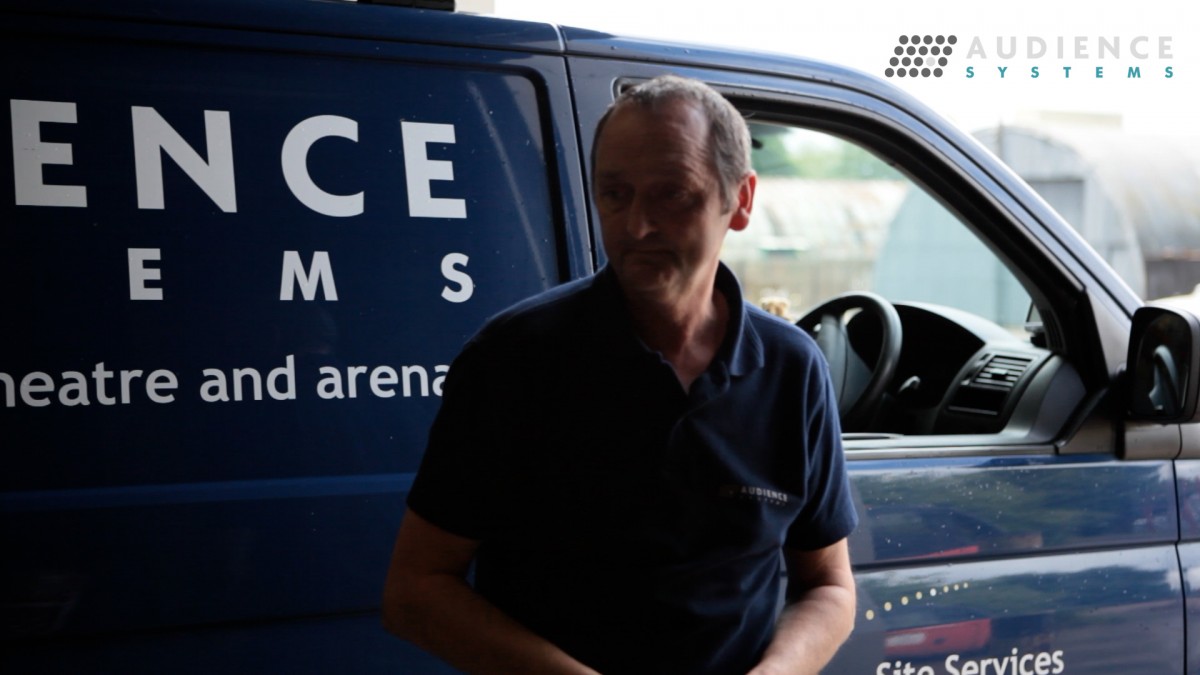 Why is this important?
An annual service inspection will extend the life of your seating system. By checking your seating system every year, making necessary adjustments, greasing and replacing small but important components, we stop wear before it occurs. We can also spot and fix any other issues with your seating. Once we've completed any safety-critical work, we'll issue a certificate which you can use to obtain insurance and (in the UK) prove your compliance to LOLER regulations.
To talk to us about retractable seating that lasts (or to get in touch with our aftersales team), head to our contact page here.