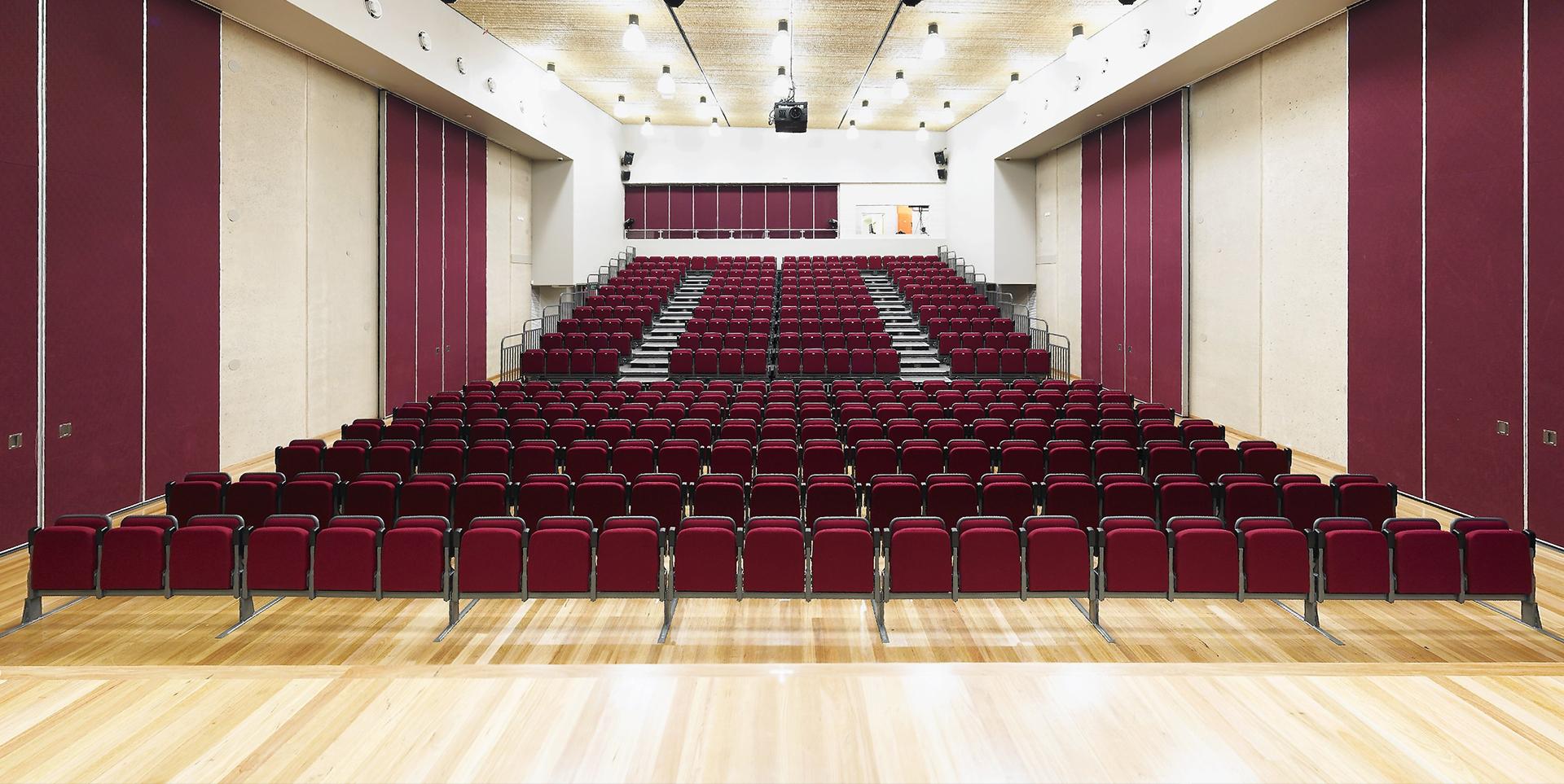 Pressure on space? Here's five tips to make multipurpose spaces work hard for your school or college
Having worked with schools, colleges and universities worldwide for over 40 years, we know that one thing common to nearly every one is pressure on space. After all, that's why hundreds of schools approach us to talk about retractable seating - which enables school halls or drama studios to become theatres, or practice courts to be turned into competition arenas.
We're almost always asked to design seating with maximum capacity in mind – but how do we achieve it? Here's five tricks we use...
Combining retractable tiering with removable stalls
Most school buildings don't have the headroom to create a vast rake of tiered seating, but they worry about designing in too much seating "on the flat" due to concerns about sightlines, and about the time it could take to set out the seating.
Actually, if you're including a raised stage in your space, the front rows can enjoy excellent sightlines. And if you specify a system of removable seats in groups (like our Matrix system) those seats can be packed away on wheeled trolleys with mimimum time and labour.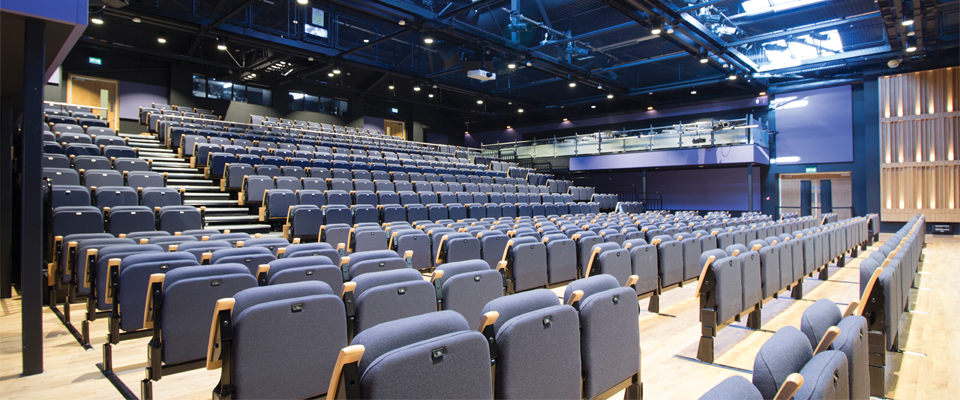 Retractable seating combined with "Matrix" removable chairs at the Amercian Community School
Doubling up
If your stage area is at floor level, you might want to avoid stalls seating, but you still may be limited by ceiling height. In this case, we can specify a "double row depth" system – where each platform of the retractable system is two rows deep. And that also means that all your seating can be packed away in one go.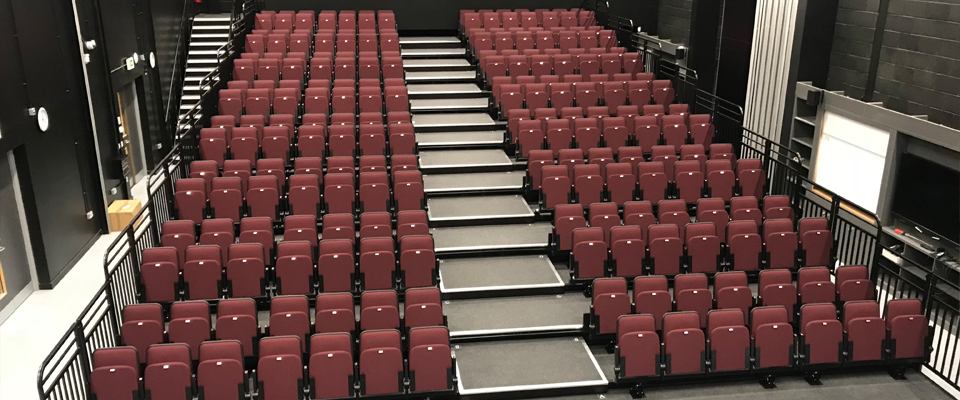 A retractable system with double row depth at Rushcliffe School
Choosing your chair
Choice of chair can be key to maximiusing capacity. We design many of our chairs with this in mind. Our Espace 628 and Eclipse are surprisingly compact front-to-back when not occupied; our Optima chairs are compact left-to-right and are designed to allow you to fit in an extra row of seating.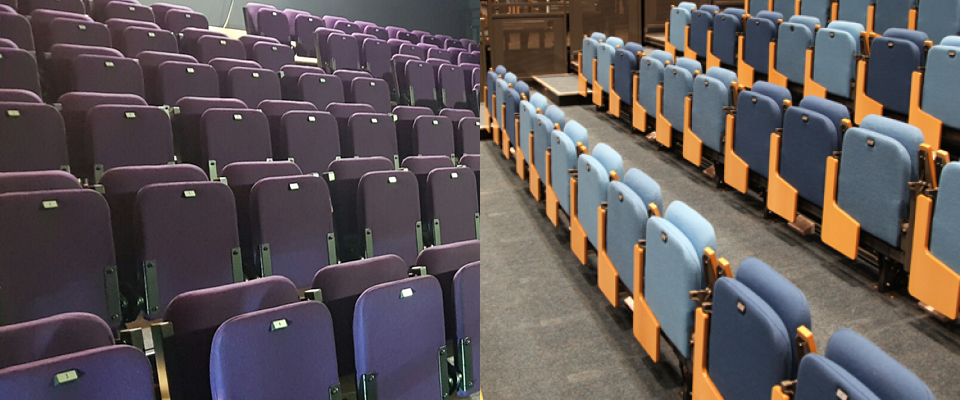 "Optima" chairs at Northampton Academy and space-saving Espace 628 chairs with writing tablets at Singapore Management University
…or choosing your bench.
Choosing a bench instead of a chair doesn't mean you have to compromise on looks or comfort. Our Chorus bench has a folding backrest for excellent support, and its clean lines lend a really sharp, high quality appearance for your space. You don't need the same row depth as for a chair, and of course, you can maximise the number of students or parents on the seats from left to right.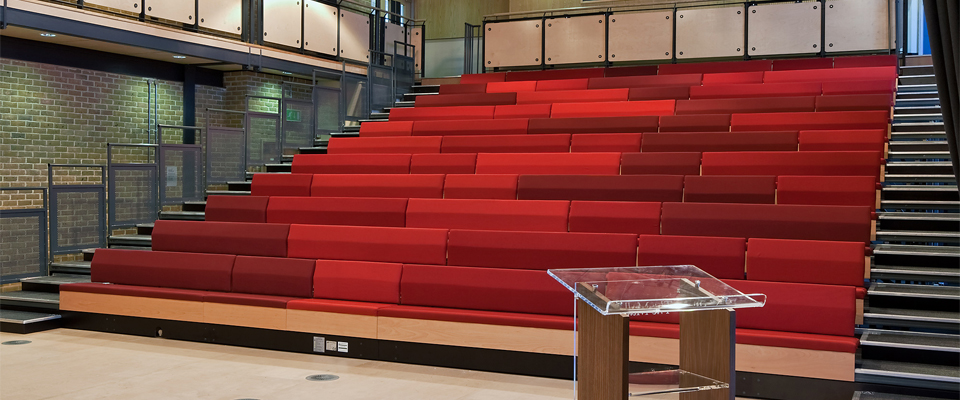 Chorus Benches at The Mall School
And finally… working with us!
There are all sorts of little things we can do to help you increase your capacity, and our customers get the very best outcomes by getting us involved in the design work from the very start. Whether it's adding a cunning extra row of seating to the front row of your seating, integrating an entrance way into the seating rake, or even advising on clever ways to store your retractable seating when closed, there's all sorts of ways we can help your space to feel larger. And we'll produce detailed CAD drawings for you to help you visualise it all!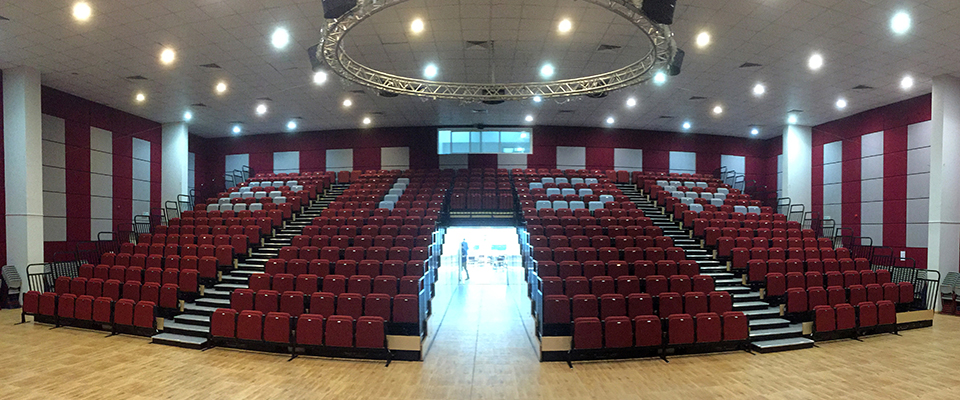 A retractable seating system complete with integrated entrance way at the British International School Riyadh
To start a conversation about your own space, contact our knowledgable sales team on +44 1373 865050 or email us on enquiries@audiencesystems.com