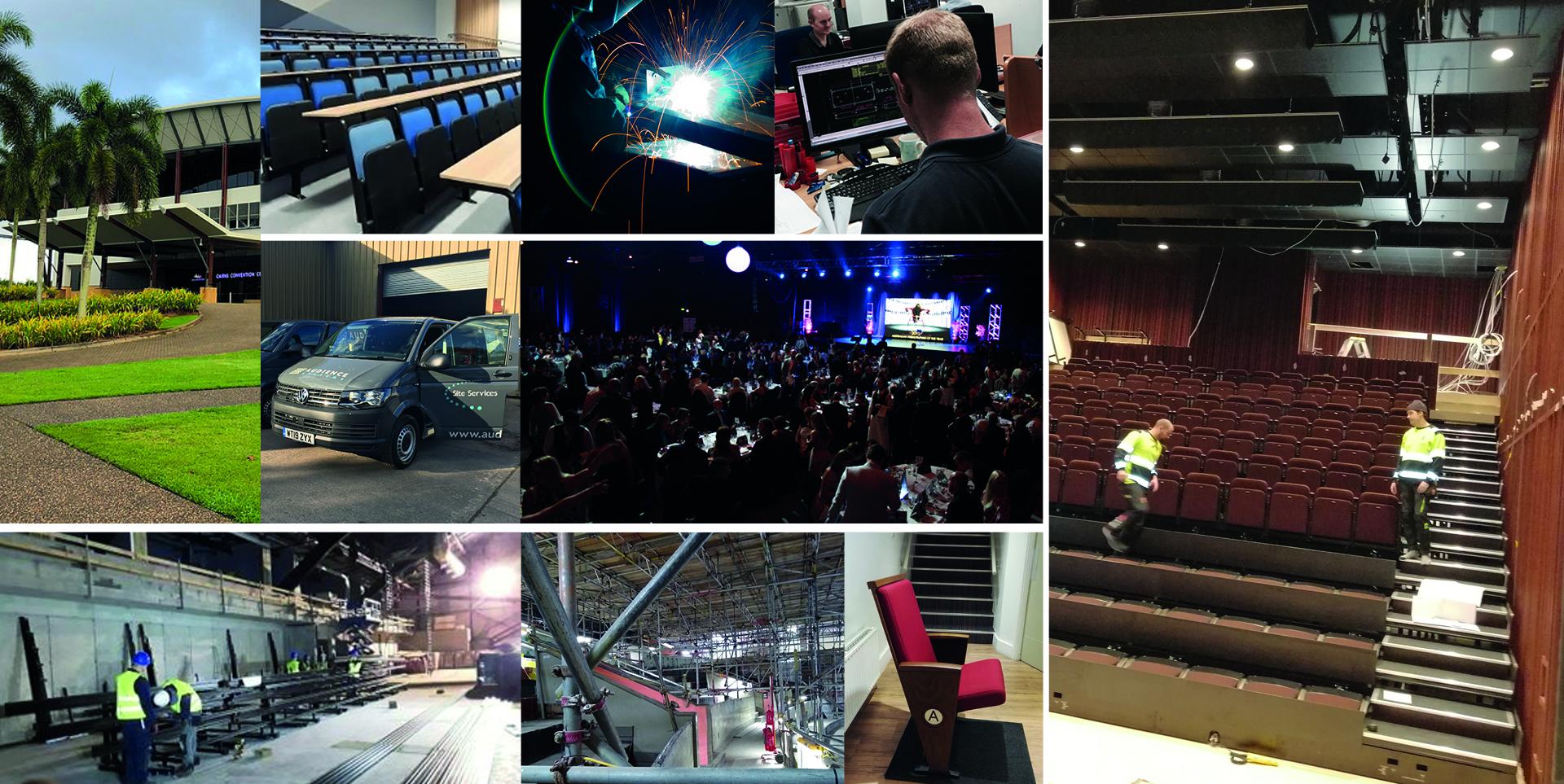 Look what we've been up to...
We may be navigating our way through some challenging times, but nevertheless, things are far from quiet for our project management, engineering, production and installation teams! We are proud to be working worldwide delivering a fantastic array of projects with real wow factor.
We're on site at Kaunas Sports Hall, Lithuania right now. As part of a refurbishment of this major multipurpose venue, we are installing retractable seating and over 2000 Espace chairs.
We've also just completed a huge 1,700-seat project at Europe's largest higher education development project - Technical University Dublin's brand new Grangegorman Campus. We've installed a whole range of our products across 13 rooms, from lecture theatre seating to retractable seating. Meanwhile, in Arizona, USA, we're just completing a beautifully finished 490-seat retractable system for an events space at the newly expanded Fayetteville Public Library, and in Sweden, we've been installing an elegant retractable system at the wonderful new Kiruna Kulturhus.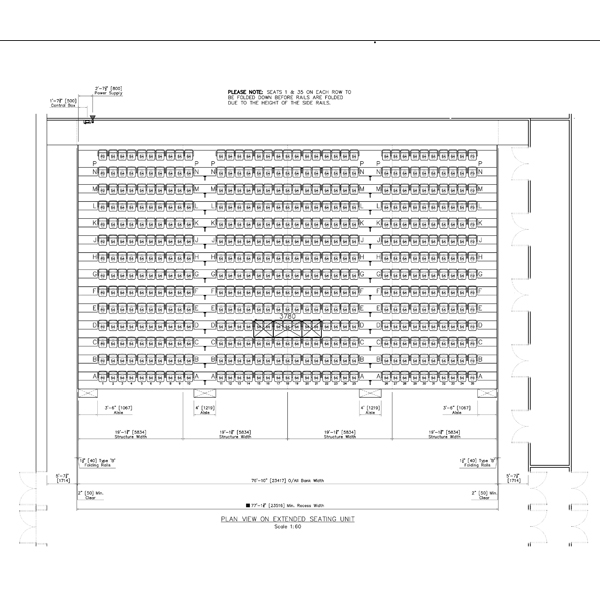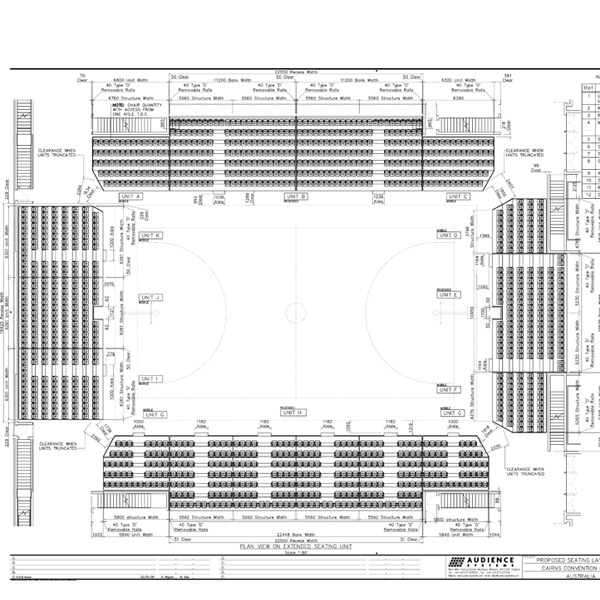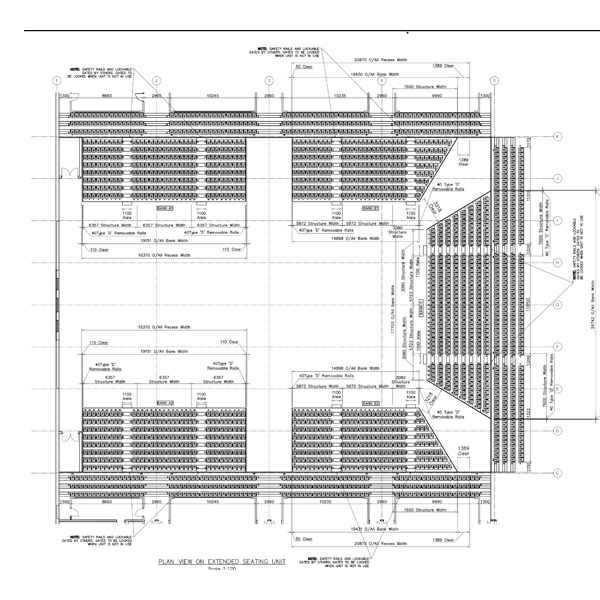 Seating layouts for Fayetteville Library, Cairns Convention Centre and Kaunas Sports Hall
In our factory, we've just finished manufacturing three other large international projects. For Australia, we've manufactured some highly customised retractable platforms for Cairns Convention Centre, and retractable seating to seat over 2000 people at the well-known Sydney arts venue Hordern Pavilion. Seating for the new 1,500 seat multipurpose events centre at Oaklawn Racing Casino Resort in Arkansas, USA is currently on its way across the Atlantic.
None of these overseas projects would be possible without our knowledgeable local partners - including UAB Vadasiga in Lithuania, Allied Systems and Products in Ireland, Titan Carter representing us in Arizona, PS Rig in Sweden, Maxwood Technology in Australia, and Heartland Seating in Arkansas.
Back in the UK, in early 2021 we'll be installing 846 specially designed theatre seats and over 800 removable "matrix" seats for the renovation of the Stockton Globe Theatre. Also in 2021, we'll be working on an exciting project at Swansea Arena - a major new 3,500 seat concert venue, which will form the heart the city's vibrant new cultural hub. We'll also be installing Zenith seats in two halls at the stunning new Meadowbank Sports Centre in Edinburgh.
As well as these larger projects, we are, as ever, working in numerous schools, studios, sports centres and theatres across the UK, Europe and beyond, installing and maintaining fantastic seating. We'll be sharing some more photos and insights on our work throughout 2021, so stay in touch!
Photos in banner show
Top left: Cairns Convention Centre

Small photos - top row: One of the thirteen rooms we fitted out at Grangegorman Campus, our production and engineering departments

Small photos - middle row: One of our van fleet, an event at Hordern Pavilion before refurbishment

Small photos - bottom Row: On site at Kaunas Arena, Lithuania, the interior of Stockton Globe Theatre during its renovation (taken when we surveyed the site), one of the new chairs we'll be installing at Stockton Globe

Right: On site at Kiruna Kulturhus, Sweden
Photo credits: Horden Pavilion photo by Toby Hudson, Cairns Convention Centre by 330highflyer, both via Wikimedia Commons