The Curve - Retractable Seating Refurbishment
Slough, UK174 seats
At this community venue in Southeast England, we refurbished an existing retractable seating system to produce a dramatic change. Refurbishment has allowed the customer to transform the auditorium, but with less cost, use of materials, and disruption than replacing the whole retractable system. Use of vinyl fabric on the new seating also means that the auditorium is easier to sanitise.
Welcome to The Curve
The Curve is multipurpose cultural destination in the heart of Slough, UK. As well as the auditorium ("The Venue"), this remarkable looking building houses an array of community spaces including a library, café, gallery, museum, learning spaces and register office.
Why Refurbish?
When The Curve was first built, Audience Systems equipped The Venue with a retractable seating system complete with benches. A few years later, the retractable platforms were still in excellent working order. However, the team at the Curve wanted to upgrade the auditorium in order to increase The Venue's attractiveness as a theatre, and bring in more events and bookings. The Curve approached the Audience Systems aftersales team to refurbish the existing retractable platforms and fit them with chairs in place of benches.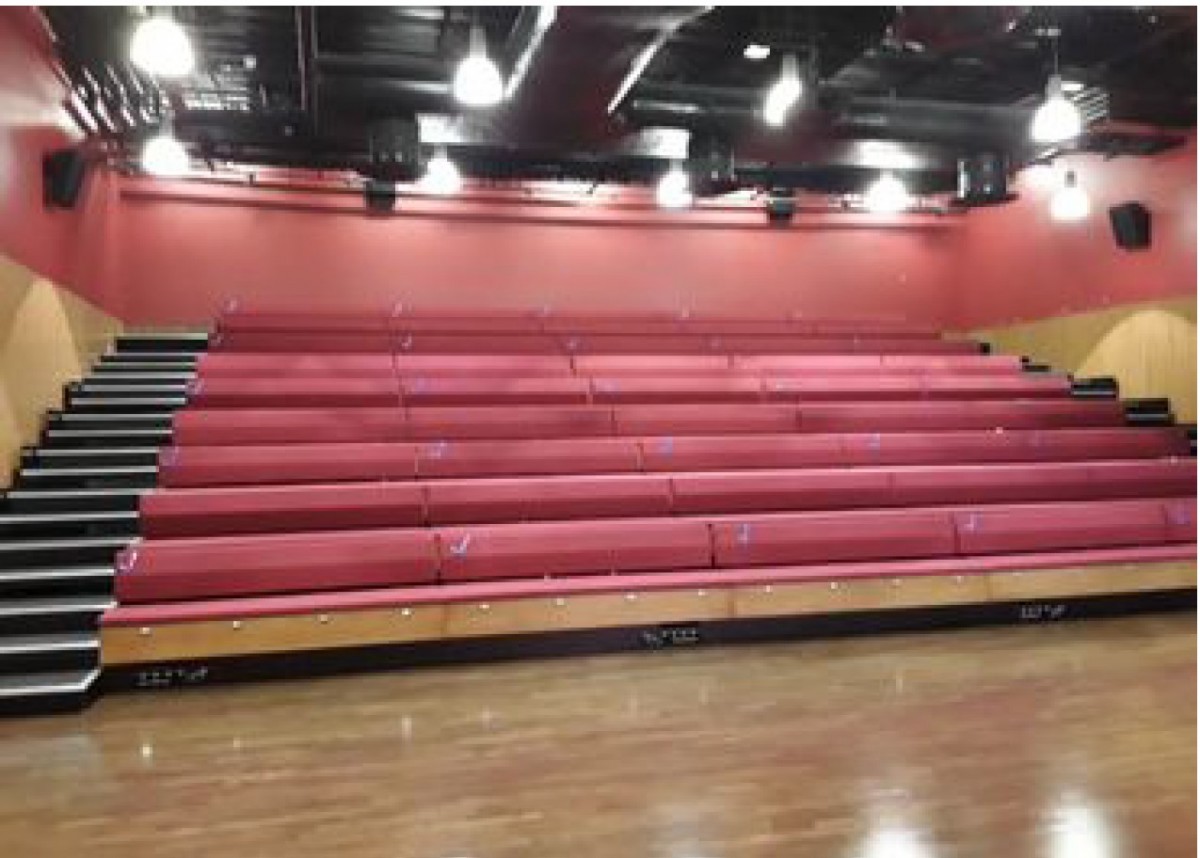 The Venue before the transformation
Good Looks, Comfort and Hygiene
Keeping the existing retractable understructure, Audience Systems' after sales team devised an upgrade package to give the platforms a "good-as-new" look. They stripped and replaced decks and steps, and swapped the benches for 174 Evolve High Back chairs. The chairs not only look fresh, they also offer outstanding support. Upholstered in a vinyl fabric in four restful shades, the chairs can be cleaned with most household cleaners. With its unique colour scheme of four restful shades, the new seating looks welcoming too.
The team also added grab rails beside the aisles to help less mobile spectators to move more confidently around the auditorium. These don't have to be removed before the retractable platforms are closed – they can simply be folded down onto the steps.
What Our Customer Said
The team at The Curve are delighted with the transformation. Leo Yousef, Hubs and Community Buildings Lead said, "The refurbishment really looks nice – we're very pleased with it! And working with Audience Systems has been a very good experience."
About The Evolve Chair
Evolve is a new chair design from Audience Systems; a modern take on our classic and popular Espace chair. Like the Espace, Evolve folds into a very small space when unoccupied, creating ample room for people to pass in the aisle. It does this without sacrificing seated comfort or style! Evolve is suitable for use on retractable platforms, as a fixed chair, or as a removable chair (as seen in the front row here at The Curve). For more information, please see our Evolve page.
Photographs by Mark Cameron.