Stockton Globe Theatre
Stockton-on-Tees, UK1651 seats
Stockton Globe theatre is a major live entertainment destination in the Northeast of England, with a capacity of up to 3000. However, this archetypal art deco theatre had stood empty since 1997, and for 20 years before that, been used as a bingo hall. As part of a huge overhaul of the whole building carried out by Stockton Borough Council, the auditorium was sympathetically refurbished. It is now a comfortable space which recaptures the ambience of the 1930s, while being a flexible and manageable space for operators Ambassador Theatre Group.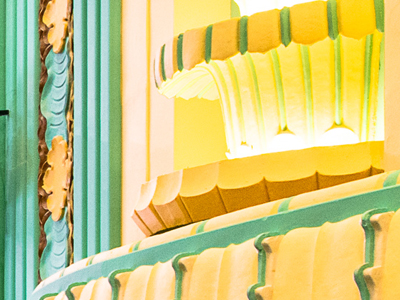 Audience Systems worked with theatre consultant Chris Baldwin to create a two-part seating package. The seats on the balcony are based on our adaptable Icon chair. With just a few special design touches, the chair has been reimagined to provide an authentic 1930s feel, but with superb comfort. Bespoke elements include a timber rail above the seat upholstery, a full depth back, a soft close seat return, and a triple routed seat number recess inspired by the "O" in the Globe's iconic logo. A few ticket holders will also enjoy the luxury of our specially designed beverage tables.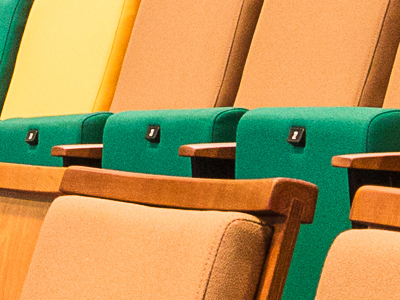 In the stalls area, the challenges were operational. Some events in the auditorium will be all seated, some part-standing. So Audience Systems were given the brief of creating a removable seating layout that could be stored under the stage. We worked with the client to engineer a solution with removable seats stacking on low trolleys, which can be lowered to under-stage level on a hydraulic orchestra pit. The seats are based on our tool-free Matrix system, where tip-up seats are slotted into removable floor bars in groups. These floor bars normally need no fixings, but the stalls in the Globe have a sloping floor, so simple stud locators help the seats win the fight against gravity. Good brakes on the transportation trolleys are a must too!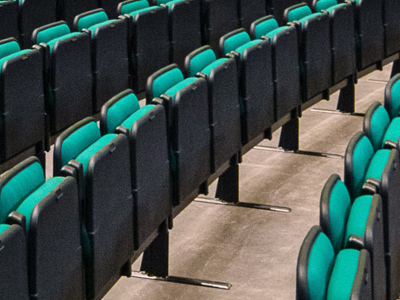 Our seats have a stunning backdrop with the whole of the auditorium beautifully restored, and a striking but authentic colour scheme. The venue will truly provide a unique experience for all who visit.
The photographs on this page are by Sally Ann Norman.