Refurbishment & UPGRADES
If you want to avoid the time, cost and environmental impact of installing completely new seating, why not talk to our aftersales team about refurbishment. Our bespoke refurbishment packages can make worn seating, be it theatre seats or retractable seats, as good as new. If you'd like to upgrade your seating, we have lots of options to enhance your chairs, or perhaps add functionality to your retractable platforms.
If you have seating by Audience Systems… Good news – we design our seating to last! Our products are easy to service and the parts are easy to replace meaning that our seating can be refurbished relatively simply. And of course, we are the only company with access to genuine Audience Systems parts.
If you have seating by another manufacturer… Good news – because we have our own specialist spares workshop, we can refurbish and upgrade seating from most manufacturers.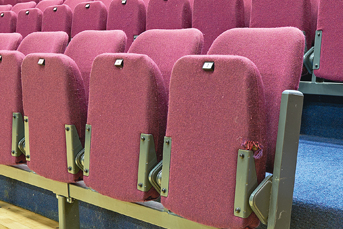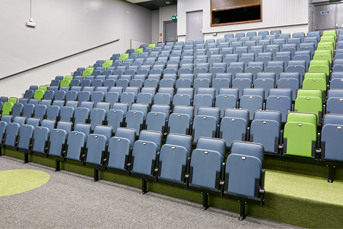 Before and after at King Edward VII College, Leicestershire
Retractable Seating System Refurbishment & Upgrades
Our refurbishment package for retractable seating (also known as "telescopic seating" or "bleachers)" really can make your seating look as good as new. We'll visit your venue and recommend a package which may include replacement of carpet, trims or fascias, replacement or reupholstery of the seating, or re-powder coating of the rails. We can add new accessories such as LED lighting or row numbering, or functionally upgrade your system with power operation or a partial opening system. We'll also make sure your retractable understructure is in the very best condition.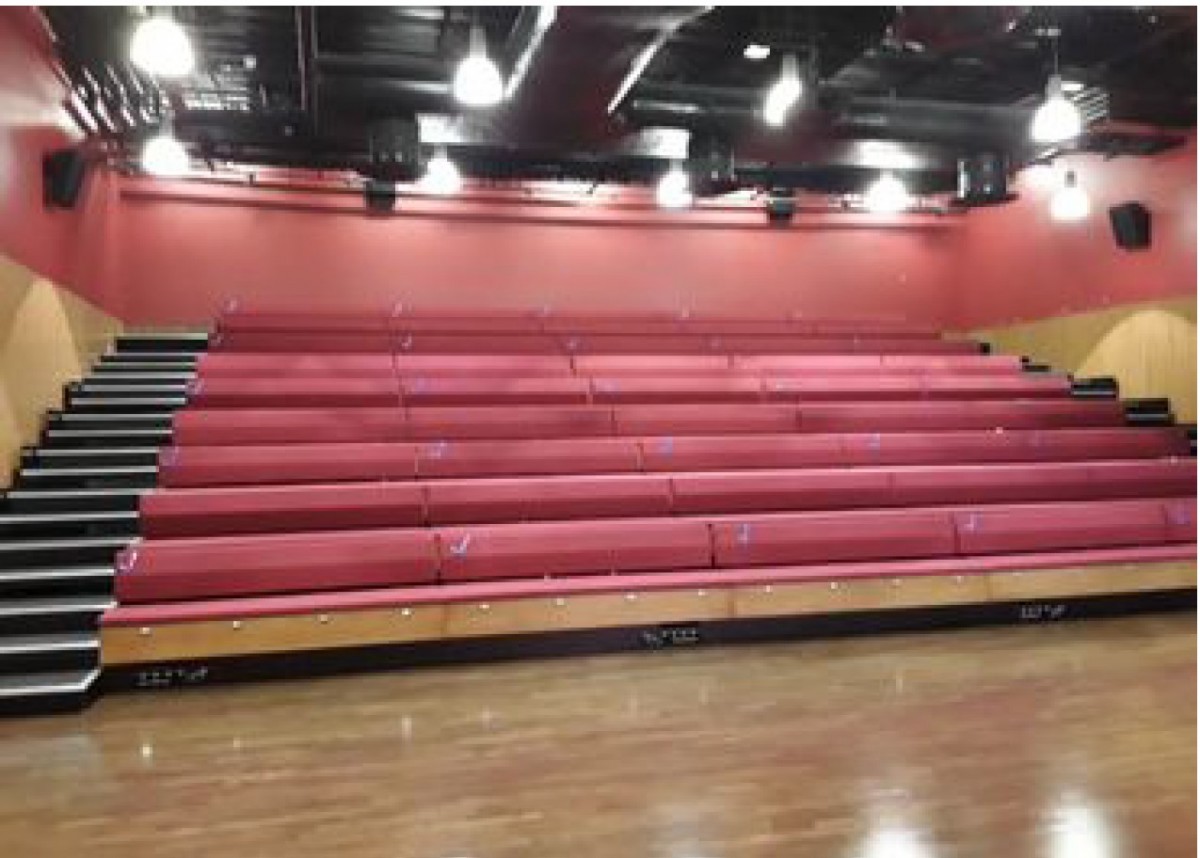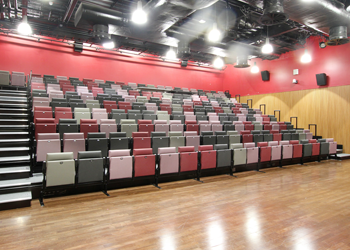 Before and after at The Curve Library and Cultural Centre, Slough
Seating Reupholstery, Refurbishment and Upgrades
It is the upholstered parts of chairs which take the most wear and tear – and those are the parts we are most often asked to replace. Usually, our approach is to replace the whole seat and back rather than attempting to re-cover the chairs. This is more controlled and efficient, with all the work carried out in our specialist UK factory. This approach also provides a far better finish than re-covering and ensures that your reconditioned chairs will comply with the latest fire regulations. Finally, there is minimum disruption to you. You can use your existing seats until we're ready to come in and fit the replacement seats and backs – which will generally only take a day or two.
When replacing your seats, you might also consider upgrades – be it higher backs, sprung seats, timber armrests or a complete upgrade from benches to chairs.
Of course, we can also recondition and refurbish other parts of chairs too – replacing armrests, powder coating frames and carrying out any maintenance required. It's entirely up to you how much you would like us to do.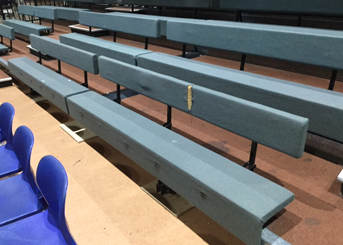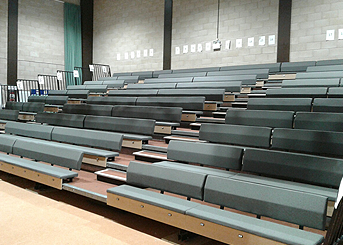 As well as refreshing these benches, we upgraded them with deeper backrests.
Specialist Cleaning
We also provide professional cleaning services which can restore your system to its original condition at a fraction of the cost. Our cleaning professionals use industrial equipment and materials to remove even the toughest stains; chewing gum, coffee and oils are no match for our team.
It's often cost and time effective to have a professional deep clean as part of your service. To find out more, contact our after sales team for a competitive quote on +44(0)1373 865050.
Customer Comments
Our Theatre is well used throughout the year for school productions, training sessions and for hire by external theatre companies and dance schools at evenings and weekends. The original seating was supplied and installed by Audience Systems Ltd many years ago, and although still in reasonably good condition, overall the theatre was starting to show signs of wear and tear and to look a little bit dated. We chose Audience Systems Ltd again after speaking to several suppliers to compare design, durability and cost. From start to finish the entire process was seamless, from the initial sales visit to the timely installation by extremely efficient and pleasant engineers. The end result looks amazing, and we are very proud to showcase our theatre and see people get the 'wow' factor as soon as they walk through the doors. I would highly recommend Audience Systems to any organisation considering a new installation or refurbishment."
Laura Evans (Business Manager), King Edward VII School, Leicestershire, UK
"The refurbishment really looks nice – we're very pleased with it! And working with Audience Systems has been a very good experience."
Leo Yousef (Hubs and Community Buildings Lead), Slough Borough Council, re The Curve
Downloads
To download our after sales brochure, please click here