Refurbishment & UPGRADES
If your current seating still suits your needs and is in good working order, why not ask us to put together a bespoke refurbishment package.
If you'd like to add functionality to your system we also have lots of options to help smooth your operation.
We can refurbish and upgrade seating from most manufacturers.
Retractable Seating System Refurbishment & Upgrades
Our refurbishment package for retractable seating (also known as "telescopic seating" or "bleachers)" really can make your seating look as good as new. We'll visit your venue and recommend a package which may include replacement of carpet, trims or fascias, replacement or reupholstery of the seating, or re-powder coating of the rails.
We can add new accessories such as LED lighting or row numbering, or functionally upgrade your system with power operation or a partial opening system.
We'll also make sure your retractable understructure is in the very best condition.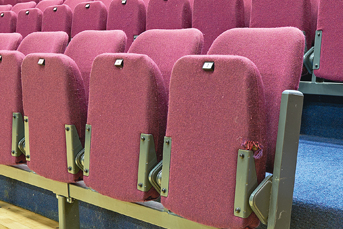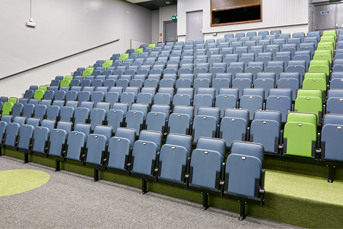 Before and after at King Edward VII College, Leicestershire
Seating Reupholstery and Refurbishment
Our highly skilled upholstery team are able to upholster or recondition all styles of seating from auditorium chairs, through to the chairs in your office space. For your convenience we manage the entire process for you. We collect items at a time that suits you, recondition or upholster them in our factory, then return and install them for you.
Specialist Cleaning
We also provide professional cleaning services which can restore your system to its original condition at a fraction of the cost. Our cleaning professionals use industrial equipment and materials to remove even the toughest stains; chewing gum, coffee and oils are no match for our team.
It's often cost and time effective to have a professional deep clean as part of your service. To find out more, contact our after sales team for a competitive quote on +44(0)1373 865050.
Downloads
To download our after sales brochure, please click here